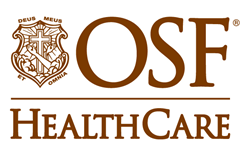 Our experience in Streator will enable us to quickly develop and provide the health care services and programs that match the pressing needs of the residents of Streator and the surrounding area - Kevin Schoeplein, OSF Healthcare System CEO
Streator, IL (PRWEB) September 08, 2015
Hospital Sisters Health System (HSHS) and OSF Healthcare System have reached agreement to transition health care services in Streator from HSHS to OSF. The agreement follows HSHS's decision to discontinue health care services at HSHS St. Mary's Hospital and related facilities and calls for OSF HealthCare to build a new state-of-the-art health care facility in Streator.
Both health systems are committed to working with the community to ensure continued access to quality health care. The timeframe for completing the transition is still being determined pending regulatory approvals. It is expected the transition could begin in early 2016.
OSF HealthCare's new outpatient center, which will be a minimum of 30,000 square feet, will include services such as imaging, laboratory, rehabilitation, specialty physician clinics, mammography, and 24/7 urgent care, or, if permitted by the state, emergency care. OSF will work closely with government and community leaders in Streator in the planning, site selection and construction of the facility. During construction, OSF will provide outpatient services through St. Mary's existing facilities and care sites, as well as OSF HealthCare's current sites.
The agreement represents a new system of care in rural areas where the focus is on creating healthier communities. To do this, care is highly coordinated so patients receive the right care at the right time in the right place, close to home. The result is quality health care for Streator and surrounding communities, delivered in fulfillment of the OSF Mission of serving with the greatest care and love.
"The most important priority in collaborating with OSF is to ensure that Streator-area residents continue to have access to high quality health care at a time when care is increasingly being offered in robust outpatient settings," said Mary Starmann-Harrison, HSHS President & CEO. "We believe OSF is the right Catholic health care partner in the best position to provide improved access to coordinated care for residents of Streator and surrounding areas for decades to come."
OSF HealthCare's Regional CEO, Dr. David Gorenz, noted the benefits to residents living close to an integrated system. "Primary and even specialty care physicians are available locally. A solid network then provides access to imperative services like behavioral health just 25 minutes to the north and a major tertiary facility within 60 miles. Patients and families are able to become healthier and more engaged through convenient and coordinated care."
Both organizations will work together in the coming months to finalize a detailed transition plan that allows for a seamless transfer of health care services in Streator. The planning process will also seek input from Streator residents and city leaders on how best to re-purpose the existing St. Mary's campus. HSHS will work closely with OSF to identify and coordinate employment opportunities for St. Mary's colleagues.
"Change is never easy but this collaboration is the best option for Streator going forward. As more procedures and treatments are delivered in outpatient settings, we have had to reduce inpatient services at St. Mary's Hospital," explained John Flanders, St. Mary's President and CEO. "We believe having OSF provide robust, ambulatory health care services as part of a highly integrated delivery system that includes physicians practicing across this region makes the most sense for the future of health care in Streator."
Kevin Schoeplein, OSF Healthcare System CEO, added: "OSF Medical Group has been serving residents of Streator and surrounding communities for many, many years, working closely with numerous providers at St. Mary's Hospital. Our experience in Streator will enable us to quickly develop and provide the health care services and programs that match the pressing needs of the residents of Streator and the surrounding area. We will work diligently and quickly to ensure residents have a very positive experience with this shifting of health care providers from HSHS to OSF."
Contacts:
Karen Brodbeck, OSF Healthcare System, Executive Director of Public Relations
(815) 993-3995 / karen(dot)b(dot)brodbeck(at)osfhealthcare(dot)org
Brian Reardon, Hospital Sisters Health System, Vice President, External Relations
(217) 492-5823 / brian(dot)reardon(at)hshs(dot)org