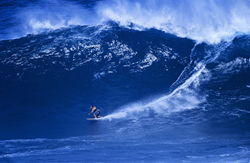 Because part of his labrum was damaged beyond repair, we replaced that section with a hamstring tendon—a technique we developed that will act as a new labrum.
Marina del Rey, Calif. (PRWEB) September 09, 2015
Continuing to advance the treatment options available to athletes with hip injuries, Dr. Dean K. Matsuda recently performed two cutting-edge surgeries that will see a mixed martial artist and big wave surfer return to the sports they love. The pioneering orthopedic surgeon, who directs the Hip Arthroscopy Center of Excellence at DISC Sports & Spine Center (DISC), puts an emphasis on minimally invasive techniques designed to preserve the hip and avoid difficult total joint replacement. His forward-thinking work has drawn patients from around the world who are determined to maintain their active lifestyles.
One such patient is mixed martial artist Patrick Stoia, who traveled from London to see Dr. Matsuda at DISC's Marina del Rey headquarters. Stoia had experienced pain in both hips that grew progressively worse as he weight trained between matches. An X-ray and MRI revealed bilateral femoroacetabular impingement (FAI), a bone deformity that damages the hip joints when abnormal abutment occurs. While most surgeons will only perform arthroscopy on one hip at a time, requiring patients like Stoia to undergo two separate surgeries, Dr. Matsuda has refined FAI arthroscopy so his patients have the option of one outpatient surgery, a single anesthesia and shorter overall recovery time that return them to sport quicker.
"I feel great now! It has only been two months and I'm walking normally and able to get back into light weightlifting," Stoia said. "The recovery has been quite painless."
Dr. Matsuda and his staff provided Stoia with a detailed plan for recovery and continue to offer advice as he carefully works on returning to MMA, an effort that would have required several additional months under normal circumstances.
Big wave surfer Ryan Atkins is another athlete who was referred to Dr. Matsuda for a nagging injury that—if left untreated—may have led to a total hip replacement. In his case, the actual acetabulum (hip socket) had been fractured in an accident 15 years ago, slowly restricting more and more of his range of motion, and causing him increasing pain as he surfed Hawaii's infamous North Shore swells. Atkins' scans not only revealed that the fracture had never healed, but that he also had FAI and severe labral damage. Using minimally invasive techniques, Dr. Matsuda repaired the fracture, treated the hip impingement, and performed an arthroscopic labral reconstruction.
"Because part of his labrum was damaged beyond repair, we replaced that section with a hamstring tendon—a technique we developed that will act as a new labrum," explained Dr. Matsuda.
The intricate procedure was performed DISC's state-of-the-art outpatient surgery center, and Atkins was able to leave within a couple hours. Two days post-op and he had already stopped pain medication and was optimistic about his recovery, which should see him getting back into the ocean in time for big wave season.
Atkins shared this advice for other athletes struggling through chronic hip pain: "If you are having any kind of hip symptoms, don't wait. Try to get it before it's too late and would end up requiring an entirely different route from the minimally invasive surgery Dr. Matsuda was able to perform."
About DISC Sports & Spine Center
DISC Sports & Spine Center (DISC) is California's premier medical group providing the full scope of spinal care, orthopedics, pain management and conservative treatments. DISC has set a new standard for high-acuity, minimally invasive spine surgery and arthroscopy in an outpatient setting, both safely and on a more cost-effective basis. In partnership with Surgical Care Affiliates (SCA), one of the nation's leading surgical care companies, DISC operates state-of-the-art outpatient surgery centers in Marina Del Rey and Newport Beach. Both centers are accredited by the AAAHC, have a zero MRSA infection rate and are conveniently located next to major freeways and airports. DISC, which accepts most major insurance plans, is also the official medical services provider for Red Bull and a proud partner of the LA Kings. For more information, contact 866-481-DISC, or visit http://discmdgroup.com.