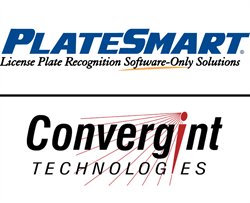 Our relationship with Convergint will continue to solidify PlateSmart's leadership position in the video analytics security industry.
Oldsmar, Fla. (PRWEB) September 08, 2015
PlateSmart, the industry pioneer in software-only automatic license plate recognition (ALPR)-based video analytics solutions, announced today that it has signed security giant Convergint Technologies as an authorized reseller. The agreement marks a major leap forward for the two companies, both trendsetters in the security industry, which have united to bring affordable, reliable video data analytics technology to verticals never before considered as viable markets for such advanced video surveillance methodologies.
Based in Illinois, Convergint is a leading provider of electronic security, healthcare technologies, and automation, with offices in 14 countries including the U.S. and Canada. The company serves a broad spectrum of vertical markets including banking, petrochemical, education, healthcare, utilities and transportation, just to name a few.
Convergint's efforts regarding PlateSmart will center primarily on ARES, PlateSmart's flagship ALPR-based video analytics solution for enterprise use. The winner of the 2014 and 2015 Govies Awards for Video Analytics and a 2013 Best Practices Award from Frost & Sullivan, ARES has established itself as the premier disruptive video data analytics product currently available. Its unique qualities include the ability to fully integrate with any video management software (VMS) solution and provide value added data never before available to any VMS system. The product also sends mission-critical alerts to any VMS in real time for complete situational awareness. Furthermore, ARES is available at an affordable price point that is unprecedented in the marketplace, which means that any size organization, public or private, can now add ALPR and ALPR-based analytics to its video security. Additionally, ARES is implementing a comprehensive auditing feature set and policy and procedure platform to ensure complete accountability for all data access. It is the first ALPR-based video data analytics solution to include this feature, which will help to safeguard privacy rights without compromising the technology's effectiveness.
The agreement between Convergint and PlateSmart comes at an opportune time for both as recent events in the VMS market have created conditions that make ALPR a must-have feature in VMS systems.
PlateSmart CEO John Chigos stated, "Our relationship with Convergint will continue to solidify PlateSmart's leadership position in the video analytics security industry. It is important to us that our solutions, which have been proven to be best of breed, are represented by a reseller that is at the pinnacle of the industry, and Convergint is indisputably such a company. This agreement will further PlateSmart's mission to provide real-time value-added data for security agencies to use for investigative purposes. Furthermore, both companies share the belief that together we will further promote the use and development of more proactive VMS systems with real time video analytical information such as those provided by PlateSmart's ARES. The end result will be better and more reliable security for everyone."
"Our clients continue to demand practical solutions that can help them improve the overall safety and security of their facilities and employees," said Tony Varco, vice president of marketing and security at Convergint. "They also look to Convergint to provide cost effective and proactive solutions that can turn real-time big data into immediate actionable intelligence. The PlateSmart solution continues to resonate with our clients because of its ability to cost effectively and seamlessly integrate with multiple third party video management platforms."
About PlateSmart
PlateSmart Technologies has developed the world's first software-only affordable license plate recognition (LPR) and video analytic solution, which works with both state-of-the-art and legacy cameras. PlateSmart offers solutions and analytics as server installed platforms for both mobile and fixed LPR operation as well as a cloud based SaaS service. ARES, PlateSmart's flagship enterprise LPR-based analytic solution, provides real-time, actionable intelligence with industry-leading accuracies and state jurisdiction recognition for complete situational awareness. PlateSmart has been frequently recognized as the most innovative and forward-thinking LPR technology by Frost & Sullivan and through awards from various industry trade organizations. Contact us at http://www.platesmart.com or info(at)platesmart(dot)com.
About Convergint Technologies – With over 65 locations in fourteen countries, Convergint Technologies is an industry-leading global organization that designs, installs and services integrated building systems including electronic security, fire alarm and life safety, and building automation solutions. To learn more about Convergint visit http://www.convergint.com.
DISCLAIMER: This press release may contain forward-looking statements and/or predictions. These statements are based on history, current knowledge and current market conditions. They are subject to change without notice as conditions and knowledge change; therefore, undue reliance should not be placed on such statements.