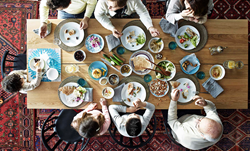 With Together, We Eat, we hope to curate the best examples of meaningful family food stories and through those, inspire people to make more food-related memories together. - Lisa Hajra, Together, We Eat Project Leader, IKEA
CONSHOHOCKEN, PA (PRWEB) September 09, 2015
IKEA U.S. announced today the launch of Together, We Eat, a quest to find the 50 best consumer stories behind cherished family recipes, celebrating the power of connection that food and the activities around it – from preparing to serving to eating – can bring. The contest recognizes the many tiny, magical moments that take place in the kitchen, bringing to life some of the best food traditions from people across the country. From now through October 27, IKEA is asking Americans to share the recipes, and more importantly, the tales behind their favorite dishes to demonstrate how the cooking and sharing of these meals have brought their loved ones together.
From Sunday dinners with Grandma's famous meatballs to the first time Dad shared his secret BBQ recipe, participants can submit their recipes and stories on TogetherWeEat.com/contest under three categories: Wintertime Favorites (Cool Weather & Comfort Food Dishes), Serving Up Spring (Fresh Ingredients from Garden to Table), and Social Summer (Picnics, Cookouts, Reunions & More). Fifty total winners will be chosen and have their recipes and stories highlighted, including three grand-prize winners who will be announced in December 2015.
Throughout the program, Together, We Eat ambassador, culinary personality and television host, Katie Lee, will share personal stories and recipes to serve as inspiration for consumers. "For me, cooking wasn't just a hobby growing up — it was a way of life. I grew up in a tight-knit family where each evening centered around the dinner menu," said Lee. "I began cooking when I was only 4 years old with my grandmother. Food is the great connector, and several of my best memories are around the dinner table. I know this is true for many people, which is why I'm so thrilled to join IKEA for this effort."
Together, We Eat is a part of a yearlong IKEA effort focusing on everyday life in and around the kitchen – celebrating the many treasured moments that happen there and simple solutions as they relate to growing, cooking, serving and storing food.
"At IKEA, we understand that there is so much more to food than food," said Lisa Hajra, Together, We Eat Project Leader, IKEA. "Simply being together to talk, laugh and reconnect in the kitchen and around the table is just as important as the food itself. With Together, We Eat, we hope to curate the best examples of meaningful family food stories and through those, inspire people to make more food-related memories together."
Submissions & Judging
Entrants may choose to submit up to one entry per theme. Deadlines for themes vary and are staggered throughout the duration of the contest:
o Wintertime Favorites (Theme #1) closes September 24, 2015
o Serving Up Spring (Theme #2) closes October 11, 2015
o Social Summer (Theme #3) closes October 27, 2015
For each submission, entrants are required to bring their story to life by submitting a personal story that showcases how a treasured dish brings their loved ones together, a recipe for the dish referenced in the story, a photo about the story and/or recipe, and an optional audio or video clip. Each entry will be judged based on relevance to the Together, We Eat theme, originality & creativity of the entry and overall storytelling ability.
Prizing
Three grand prize winners (one per theme) will receive a prize package including a $1,500 IKEA gift card, a trip for two to New York City for a photo shoot to be included in a future issue of O, The Oprah Magazine, a "Dinner Party Kit" consisting of IKEA products, and a spotlight story on TogetherWeEat.com/contest. Additionally, a total of forty-seven first-prize winners across all categories will each receive a $250 IKEA gift card.
Please visit TogetherWeEat.com/contest for contest submission, additional guidelines, and inspirational stories and recipes.
About IKEA
Since its 1943 founding in Sweden, IKEA has offered home furnishings of good design and function at low prices so the majority of people can afford them. There are currently more than 360 IKEA stores in 47 countries, including 40 in the U.S. IKEA incorporates sustainability into day-to-day business and supports initiatives that benefit children and the environment. For more information see IKEA-USA.com, @IKEAUSANews, @IKEAUSA or IKEAUSA on Facebook, YouTube, Instagram and Pinterest.
###