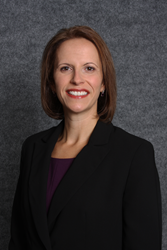 "I am proud of my service at Gateway, an organization which has been a lifeline for people struggling with drug and alcohol addiction for nearly 50 years." -Karen Wolownik-Albert, Executive Director, Gateway Lake Villa
Lake Villa, IL (PRWEB) September 09, 2015
Gateway Alcohol & Drug Treatment Centers has promoted Karen Wolownik-Albert to Executive Director of its Lake County facility in Lake Villa, Ill. where she will manage overall operations of the facility. The center provides drug rehab services to individuals throughout Lake County and the Chicago Suburbs at its 43-acre facility on Fox Lake.
Wolownik-Albert, a Licensed Clinical Social Worker, became Program Director at Gateway in 2010, overseeing residential drug rehab services for adults and adolescents. Part of her focus has been continuous improvement and evaluation of treatment methods by analyzing program results. She created a council for successful program alums to provide feedback and offer suggestions.
"Substance abuse is a pervasive issue that can affect anyone. Addiction is a disease that devastates individuals and families, as well as impacts communities," Wolownik-Albert said. "I am proud of my service at Gateway, an organization which has been a lifeline for people struggling with drug and alcohol addiction for nearly 50 years. We have an incredible team of talented and dedicated staff, and as an organization we are constantly evolving and expanding the services we provide."
As Program Director, Wolownik-Albert managed the Adult Men's and Women's Residential Programs and the Young Men's Residential Bridge Program for those in Lake County and the Chicago suburbs who suffer from drug or alcohol dependency and co-occurring disorders.
"With a career dedicated to helping those in need, Karen brings to the table all that Gateway represents," said Dr. Thomas P. Britton, President and CEO of Gateway Alcohol & Drug Treatment Centers. "Karen provides clinical excellence and quality through each interaction with our clients and surrounding community. I'm confident that Karen will lead Gateway Lake Villa to the next level of greatness."
Wolownik earned her B.S. and M.S.W. from the University of Michigan in Ann Arbor, Mich. Before joining Gateway, she worked in juvenile behavioral treatment and youth services.
Gateway Alcohol & Drug Treatment Centers offer a comprehensive approach to drug rehab. With 10 facilities throughout the state, including three in Chicago and two in the Chicago Suburbs, its staff creates personalized treatment plans for each individual, one that treats the underlying causes of substance abuse—not just their addiction to drugs or alcohol.
Services include substance-abuse education, group and individual counseling, medical treatment of withdrawal symptoms and integrated therapy for underlying mental health concerns. Gateway also provides family counseling and education, relapse prevention and aftercare recovery support programs.
Reporters and Editors, for more information please call Kymberly Vasey, director of marketing, at (630) 776-5725.
About Gateway Alcohol & Drug Treatment Centers
Gateway Alcohol & Drug Treatment Centers provide substance abuse treatment services for teens and adults at drug rehab centers throughout Illinois and the St. Louis Metro East area. Gateway's outpatient and inpatient treatment centers are licensed by the state of Illinois and accredited by The Joint Commission. Each year, Gateway's professional clinicians help thousands of individual's successfully complete treatment. Learn more about Gateway's free, confidential consultation at RecoverGateway.org or call (800) 971-4673.