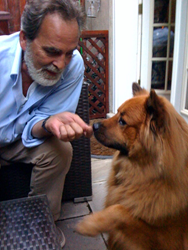 one thing that is constant with all cases – upon diagnosis everything stops, life as you know it takes a turn you didn't see coming
Philadelphia, Pennsylvania (PRWEB) September 10, 2015
Originally reported through posted updates on LinkedIn.com, Maturo Media, LLC representatives confirmed Mr. Maturo's diagnosis and released the following memo from Sam Maturo to assure clients, colleagues and associates worldwide that the prognosis is good:
Once more unto the breach...
To all of my associates, friends and colleagues, many of you know that earlier this year I was diagnosed with stage 4 laryngeal cancer. Well, thanks to the medical staff headed up by Dr. Jason Newman at Pennsylvania Hospital in Philadelphia, the prognosis, after some major surgery, is excellent. I walked away with everything except my voice. Yes, I've lost the ability to speak, which now presents an interesting set of challenges.
I have found that some people are rather pleased that I have lost my voice, you can tell by the unusual pleasant look on their face upon learning of it. I first observed this on my accountant and subsequently at various times on my wife, several assistants, bartenders and the dog.
Some funny things have occurred for example, I write things down on a pad when communicating with people during the course of the day no matter where I am. It's attention grabbing at a bank tellers window and I've found that people also tend to speak louder and slowly to me as if I lost my hearing as well. But my favorite is when they reach for my pad and pen and respond to my question by writing their answer. This has me shaking my head; if any of you know why a person would do this please let me know.
In about six months or so there is an operation I can undergo that will restore my ability to speak, it will give me a voice, not my original voice but a voice all the same. Just hoping it's not a silly one like Donald Duck, Elmer Fudd or one of the Minions, although that does have entertaining possibilities and opens the door for some voice over work.
Which brings me to letting you all know that I am open for business. The procedure removed my voice box but not my creativity or ability to write copy and tell a good story. Producing is a bit problematic only because producers are required to talk so much. Prior to this diagnosis I was mounting a national infomercial campaign, long form kitchen product category, a new exciting concept. I would like to partner up and co-produce this production now if anyone is interested.
Finally, I would like to say that if you or anyone you know is going through a cancer event there is probably one thing that is constant with all cases – upon diagnosis everything stops, life as you know it takes a turn you didn't see coming. It's scary but you have to shake that off and like any good producer assemble the best team you can and knock it out, maintaining a sense of humor helps a lot. The technology and specialized technique employed by professionals in this field is amazing and the chances of returning from the breach are excellent.
Thanks to all of you who have expressed your concern, prayers and offers of assistance throughout this ordeal, it was and is greatly appreciated. Hope to see one and all of you soon in a meeting, in studio on location, in post or in a bar but please don't yell – I can hear you!
-Sam Maturo-