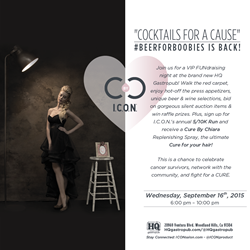 We at I.C.O.N. have made it our company mission to support breast cancer research and fund these grants. 'Cure for a Cause' is our illustration to doing so and requires all of our fighting power to win.
Los Angeles, CA (PRWEB) September 09, 2015
I.C.O.N. Products is no stranger to "liquid fashion" in the professional hair industry, hosting the most stylish of soirees, or fundraising in honor of breast cancer research. The second annual "Cocktails for a Cause" has returned with #BeerForBoobies at HQ Gastropub, located at 20969 Ventura Blvd, Woodland Hills, Calif. 91364 on Sept. 16, 2015. From 6 p.m. to 10 p.m. PST guests will sample first-rate craft and artisan beers, esoteric wines, spirits from small batch distilleries around the world, indulge their taste buds in cutting-edge, pop-culture fared food, bid on silent auction items, and sign up for October's STOP CANCER 5|10K Run|Walk. I.C.O.N. is proud to collaborate with the new San Fernando Valley hotspot, HQ Gastropub, as "High Quality" is part of both organizations every move. Mark Matters, HQ's owner, and creator of its innovative concept stated "We are an establishment who takes a personal interest in the happiness, well-being of every guest and the community surrounding us. Philanthropy is as important as the food we serve, the beer, wine, and spirits we dispense."
As beauty and cause go hand in hand, I.C.O.N's very own co-founder, creative director, and breast cancer survivor, Chiara is near and dear to the disease. After a most intimate battle with breast cancer, Chiara recognized the immediate need for a professional hair care line to help heal and manage all textures of hair; especially strands altered by the effects of chemotherapy and radiation. Launched in October 2014, I.C.O.N. Products Cure by Chiara micro-line was born with a $95 trio including Cure Replenishing Spray, Recover Shampoo, and Double Body Serum, usable for all cultures and hair types. Designed to change the balance of texture by smoothing and softening wild hair and encouraging body in fine and flat hair, it revives, rejuvenates and repairs hair. "This line represents my personal story of strength for all those struggling with erratic texture issues. It's also a celebration for the survivors of this nasty disease, a memorial to those we've lost, and hope for future lives to save," Chiara said. I.C.O.N's worldwide "Cure for a Cause" campaign donates 20 percent of its Cure by Chiara sales to STOP CANCER direct.
I.C.O.N. partnered with STOP CANCER 501(c)3 in 2007 and has since raised over $200,000 in grant money through their worldwide "Cure for a Cause" campaign. The international hair care brand chose to align with STOP CANCER specifically for its unique relationship with UCLA's Jonsson Comprehensive Cancer Center, USC Norris and City of Hope, where every dollar raised is matched with in-kind support to each awardee including space, equipment, telephones, lab supplies, admin services and underlying salary support. The value of every dollar that is contributed is doubled. For 2015, I.C.O.N's seed grant went to Dr. Erica K. Sloan at UCLA's JCCC, whose research focuses on the underlying mechanisms through which psychological stress may influence cancer progression. Her research aims to define the neural, inflammatory and tumor mechanisms for the effects of stress on metastasis and to develop pharmacologic strategies to slow cancer progression. An Assistant Adjunct Professor at UCLA's Semel Institute for Neuroscience and Human Behavior, Dr. Sloan is a member of the Cousins Center for Psychoneuroimmunology, UCLA Jonsson Comprehensive Cancer Center, and UCLA Aids Institute.
Alongside I.C.O.N's position as a trendsetter in the professional hair care industry dually stands their
commitment to funding a cure. Co-founder Chiara related, "We at I.C.O.N. have made it our company mission to support breast cancer research and fund these grants. 'Cure for a Cause' is our illustration to doing so and requires all of our fighting power to win." With October marking Breast Cancer Awareness month, I.C.O.N. is elated to add "Cure Rocks" to their public calendar of events. On Oct. 13, 2015, the legendary Whisky-A-Go- Go will open its doors and live stage to include performances by Taylor Hasselhoff, Tomorrow's Bad Seeds, Lita Ford, All 4 One, plus others TBA. Whether it be through the purchase of Cure by Chiara products one item at a time, wrangling clients and their network of supporters to join their team in STOP CANCER's yearly 5|10K Run|Walk, or staging an upcoming concert to gift more funds for breast cancer research, I.C.O.N's pursuit to fuel the fight stands strong.
For more information on I.C.O.N. and their upcoming events, please visit their website and contact their public relations agency, Jade Umbrella.
About I.C.O.N. Products: Worldwide hair care leader,I.C.O.N. Products was launched in Europe and North America in 2002. Its products are sold in professional salons internationally. Its philosophy is to produce eco- safe care products and create "liquid fashion" with its conscious styling, coloring, and finishing tools to continuously challenge the perception of beauty. I.C.O.N. has consistently broken established, industry rules to provide a balance of identity and "intelligent style." All I.C.O.N. Products are crafted using EcoTech formulations, combining the best of ecology paired with advanced technology. The company offers expansive education and twice-yearly haircut collections via the Front Row.
About STOP CANCER: STOP CANCER is committed to funding the most promising and innovative scientists in their early research of all forms of cancer prevention, treatment, cures and subsequent clinical applications. STOP CANCER works primarily with local National Cancer Institute-designated Comprehensive Cancer Centers and other qualified institutions in the United States to carry out its mission. Founded in 1988, STOP CANCER has funded 244 grants to 201 researchers with support valued at over $59 million for cancer research.