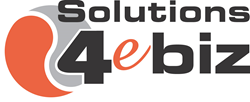 We're excited to have Solutions4ebiz on board as a distributor.
Pendleton, IN (PRWEB) September 09, 2015
Internet technology consultants Solutions4ebiz (http://www.solutions4ebiz.com) has signed an agreement with Saisei (http://www.saisei.com) to distribute its Network Performance Enforcement (NPE) solutions in North America. Saisei's FlowCommandTM NPE software provides the sub-second network policy control, analytics and security required to manage the millions of applications, users and devices flooding cloud, mobile, SDN and NFV networks today.
Said Bill Beckett, Founder and Chief Strategy at Saisei of the partnership, "We're excited to have Solutions4ebiz on board as a distributor. With their longevity in the tech industry and knowledge of Internet Service Provider operations, they will be an excellent partner to expand Saisei's reach into new markets. In turn our products can benefit their existing ISP, telecom, and enterprise clients by solving critical network traffic issues."'
Saisei's patented flow-based technology allows Internet Service Providers, business enterprises, and entities such as hospital or school campuses, that often find their networks overrun by file sharing, streaming video, malware, and advertising, to offer equal connectivity to all users and guarantee no user session timeouts due to network congestion. FlowCommandTM also enables allows network operators to prioritize critical traffic without causing issues for non-critical traffic, significantly improving overall subscriber experiences.
Since opening its doors in 2000, Solutions4ebiz has been a consultative distributor of industry-leading technology products for Internet Service Providers and business enterprises. Saisei's products add to Solutions4ebiz's carefully selected line-up of distributed hardware and software, which includes Scale Computing hyperconvergence appliances, Synaccess power management products, and the MyTurf platform for network ad management and revenue generation. The company is also the exclusive US distributor for Azotel SIMPLer billing and operational support system for wireline and wireless Internet Service Providers (ISPs).
Azotel has recently integrated with Saisei's FlowCommandTM to offer more granular management of network traffic for its users inside the Azotel SIMPLer platform.
Said Solutions4ebiz Chief Technology Officer Michael Sheward, "Our customers have asked for a solution that lets them manage their subscriber traffic at a more detailed level. We found that solution by integrating Saisei's NPE with Azotel SIMPLer. This allows assignment of policies that help operators easily enhance their subscribers' experiences while improving their network efficiency and performance."
About Solutions4ebiz: Solutions4ebiz specializes in helping small- to medium-sized enterprises and organizations and internet service providers implement the best technology solutions for their business needs. Solutions4ebiz develops and distributes hardware and software solutions throughout North America to internet service providers and small- to medium-sized businesses. The company also provides a full range of custom programming, managed hosting, web development, and internet marketing services. Solutions4ebiz is a WISPA member company. For more information, call 877-666-3249 or visit http://www.solutions4ebiz.com.
About Saisei: Saisei is a Sunnyvale, California-based software company that is revolutionizing network analysis and control for the challenges that mobility, cloud, SDN, NFV, and the Internet of Things are bringing to networks today. Its scalable, real-time Network Performance Enforcement software solutions provide the speed and smarts needed to instantly analyze and enforce policy on the millions of applications, users, and devices populating networks today. Enterprises and service providers can now use their full network bandwidth knowing that unexpected traffic surges are automatically accommodated and all user traffic will get through even the busiest of network links with no dropped sessions, resulting in dramatic savings, accelerated revenue growth and a great user experience. Saisei is a WISPA member. More information is available at http://www.saisei.com.