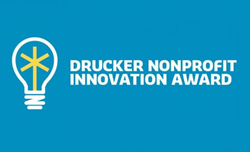 Every one of the 10 finalists for this year's Drucker Award has a very robust bottom line—each fueled by a clear capacity to seize innovative opportunities and make the most of them.
CLAREMONT, Calif. (PRWEB) September 09, 2015
The Drucker Institute at Claremont Graduate University has named the 10 finalists for the 2015 Peter F. Drucker Award for Nonprofit Innovation.
The winner will be announced later this month. The prize is $100,000, thanks to a generous grant from The Coca-Cola Foundation.
The finalists are:

92Y, which launched #GivingTuesday to catalyze philanthropic giving following Black Friday and Cyber Monday.
Child Care Services Association, whose Child Care WAGE$ salary supplement program encourages early childhood professionals to stay in the field and to seek college degrees in early childhood education.
Kids v Cancer, which devised a market-based incentive for the development of drugs to combat pediatric cancer and other life-threatening illnesses in children.
MIND Research Institute, which created ST Math, a highly effective visual approach to teaching mathematics based on neuroscience research.
Operation ASHA, which has established decentralized networks of tuberculosis treatment centers, aided by technology, where services are provided free of charge to marginalized communities in India and Cambodia.
Riders for Health, whose Sample Transport motorcycle courier service fights disease across sub-Saharan Africa by taking patient samples from remote health centers to laboratories for testing and diagnosis, returning the results swiftly and safely so treatment can start.
Rocky Mountain Institute, which has been a pioneer in addressing today's climate crisis by showing how to displace fossil fuels with efficiency and clean renewable energy.
Sanergy, whose Total Hygienic Sanitation program includes the franchising of clean toilets to local residents in the slums of Nairobi, the safe removal and treatment of waste from communities and conversion of waste into saleable by-products.
Team Rubicon, whose Veteran Disaster Relief Operations train military veterans to be first responders, providing help to areas struck by disaster while simultaneously supporting the needs of veterans transitioning back to civilian life.
The National Campaign to Prevent Teen and Unplanned Pregnancy, whose Bedsider initiative has helped millions of single women in the U.S., ages 18 through 29, find the best method of birth control, stay on it and use it successfully.
In all, the Drucker Institute received 655 applications this year from nonprofits in 45 states and the District of Columbia. The annual budgets for these organizations ranged from less than $250,000 to well more than $10 million.
"As Peter Drucker wrote, 'All social sector organizations share the 'bottom line' of changed lives,'" said Rick Wartzman, the Drucker Institute's executive director. "Every one of the 10 finalists for this year's Drucker Award has a very robust bottom line—each fueled by a clear capacity to seize innovative opportunities and make the most of them. It is a privilege and an honor to put forward these 10 amazing nonprofits for consideration by the final judges."
Administered annually since 1991, the Drucker Award is granted to a social-sector organization that demonstrates Peter Drucker's definition of innovation—"change that creates a new dimension of performance." In addition, the judges look for programs that are highly effective and that have made a difference in the lives of the people they serve.
The final judges include Wartzman; Pete Buttigieg, the mayor of South Bend, Ind.; Sumita Dutta, managing director at Golden Seeds; Dave Gallon, national manager of Strategic Insight and Innovation at Toyota Financial Services; Geneva Johnson, former president and CEO of Family Service America and Families International; C. William Pollard, chairman emeritus of ServiceMaster Co. and a member of the Drucker Institute's Board of Advisors; Patrick Soon-Shiong, the founder of NantWorks; Avi Steinlauf, CEO of Edmunds.com; Bryan Walker, associate partner at IDEO; and Kathy Waller, CFO and executive vice president of The Coca-Cola Company.
Hailed by Businessweek magazine as "the man who invented management," Peter Drucker not only consulted for major corporations; he also advised the Girl Scouts of the USA, the Red Cross, the Salvation Army and countless other social-sector organizations. He called the nonprofit "America's most distinctive institution."
About the Drucker Institute
The Drucker Institute is a social enterprise based at Claremont Graduate University. Our mission is strengthening organizations to strengthen society. Our programming—for the corporate, nonprofit and public sectors—is built on a foundation of YESTERDAY/TODAY/MONDAY* "Yesterday" refers to the fact that our work is grounded in Peter Drucker's timeless wisdom. "Today" speaks to the urgency that we know organizational leaders feel to successfully meet their greatest challenges and opportunities. And "Monday" points to our proven ability to help executives move quickly from ideas to action to results, just as Drucker urged his own consulting clients: "Don't tell me you had a wonderful meeting with me. Tell me what you're going to do on Monday that's different." For more, visit http://www.druckerinstitute.com.
About Claremont Graduate University
Founded in 1925, Claremont Graduate University is one of the top graduate schools in the United States. Our five academic schools conduct leading-edge research and award masters and doctoral degrees in 22 disciplines. Because the world's problems are not simple or easily defined, diverse faculty and students research and study across the traditional discipline boundaries to create new and practical solutions for the major problems plaguing our world. A Southern California-based graduate school devoted entirely to graduate research and study, CGU boasts a low student-to-faculty ratio.