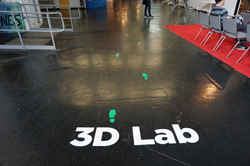 I've seen it on TV and read about it, but I've never seen 3D technology in action; it's amazing
San Francisco, CA (PRWEB) September 21, 2015
Growshapes, a Silicon Valley-based startup that offers one of the highest-quality at a reasonable price 3D scanning technology on the market, has set up camp at the Innovation Hangar (iHanger). Located inside the historic Palace of Fine Arts in San Francisco, the Innovation Hangar, or iHangar, is a unique space that promotes creativity and growth through educational events, hands-on activities, and exhibiting a number of trailblazing technologies and art pieces. Growshapes partakes in this stimulating learning environment by showcasing the DAVID Vision Structured Light 3D Scanner solution,giving visitors a glimpse of how 3D scanning works and how it is applied in today's rapidly changing world.
Since opening up in mid-July the "3D Lab" where growshapes and fellow Silicon Valley-based and 3D printing specialist Octave Systems Inc is demonstrating 3D scanning and 3D printing technology has attracted people of all ages and from all across the globe. A handful of visitors, usually specializing in fields such as engineering, product design, or medicine, already has some first hand experience using the technology.
The majority of guests express much different sentiments however. Tourists from Asia, Europe, and other parts of the United States as well as Bay Area natives explain that their visit to the 3D Lab marks their first time seeing the cutting-edge technology in person.
Through their 3D Lab, growshapes and Octave will continue to showcase to the public how 3D technology can revolutionize the times ahead. As society progresses, more uses of the 3D scanner and printer will arise, and growshapes plans to stay on the forefront of all the latest 3D technology developments in order to best advise the innovators of both today and tomorrow.
About growshapes
Growshapes is a Silicon Valley company that helps companies bring their visions to life in physical form as well as in digital form. The company provides products to help innovators adopt the best 3D-related technologies to accelerate their innovation in product design, development, production and marketing. Growshapes is the Silicon Valley Authorized Reseller for DAVID Vision Systems GmbH 3D scanners and software and the Afinia H-Series 3D printer.