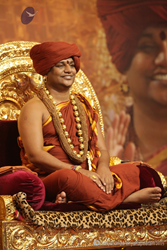 Don't Miss Kumbh Mela.
Nashik, India. 8 September 2015 (PRWEB) September 09, 2015
Paramahamsa Nithyananda Swami of Bidadi, India is set to join the ongoing mega celebrations - the Kumbh Mela - happening at Nasik / Trimbakeshwar starting next week. Next Sunday marks the second (among three) and the most auspicious Shahi Snan (holy dip) of the entire Kumbh period. Tens of millions of people are expected to arrive in Nasik for taking the dip during that day. As Mahamandaleshwar of the Mahanirvani Akhada, Swami Nithyananda will be among the first groups of people who will participate in the Snan early on the morning of the 13th.
The Mahanirvani Akhada is one of the main akhadas (apex body) among the thirteen Akhadas that collectively organize the Kumbh Mela. The Kumbh mela is the largest gathering of humanity and is one of the biggest celebrations of Hinduism. It has been celebrated for more than 3000 years now and happens roughly once in three years cyclically in the four cities of Nasik, Ujjain, Haridwar and Prayag. A huge temporary city pops up in each of these places a month or so before the festival and is dismantled a few weeks after.
Paramahamsa Nithyananda is expected to arrive with a large contingent of devotees from all around the globe and add colour and spiritual fervor to the Kumbh Mela.
http://www.kumbhmela.com - The official website of the Mahanirvani Akhada for the Kumbh Mela.
For more talks on Kumbh Mela please refer to http://www.youtube.com/lifeblissfoundation