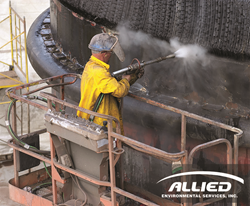 Allied takes pride in maintaining an excellent safety record, and we know the value that safe work practices bring to our clients
Lima, Ohio (PRWEB) September 11, 2015
Allied Environmental Services, Inc., one of the Midwest's premier environmental consulting and contracting firms, recently announced the hire of Eric Newland as Safety Director. Mr. Newland brings over 15 years of health and safety management experience, with a broad knowledge of the manufacturing and petro-chemical industries.
Headquartered in Lima, Ohio, Allied Environmental Services, Inc. (Allied) has provided specialized environmental and industrial maintenance services for more than 28 years. Building on the momentum of a strong 2014, Allied has continued to grow its service offerings and client base. According to Steve Carr, Allied CEO, Mr. Newland will be instrumental in ensuring that this growth is safety-conscious. "Allied takes pride in maintaining an excellent safety record, and we know the value that safe work practices bring to our clients", stated Carr. "Eric takes a very proactive approach to workplace safety, and will continue to advance Allied's safety culture", Carr added.
Mr. Newland's career has included HSE management, safety training and audits, risk management, and operational leadership for global manufacturers and petroleum refineries.
About Allied Environmental Services, Inc.
Allied Environmental Services, Inc. (Allied) is an environmental contracting and consulting firm headquartered in Lima, Ohio. For over 28 years, Allied has provided professional environmental services to private industry, government and military facilities, municipalities, schools, and hospitals. Allied specializes in industrial cleaning (vac-truck and hydroblasting services), hazardous materials management, emergency spill response, pond sediment extraction, well field services, asbestos inspection and abatement, underground storage tank closure, environmental consulting, and industrial hygiene services.
For more information please visit Allied's website at http://www.alliedesi.com, or contact the main office at (800) 992-5781.