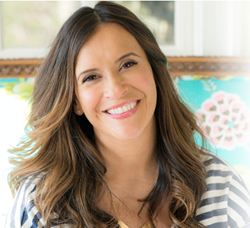 "Robyn brings a host of singular skills that will empower our team as we elevate the visibility of our brand and continue to move the Latina franchise forward," said Latina Media Ventures Editor-in-Chief, Shirley Velasquez.
NEW YORK, NY (PRWEB) September 10, 2015
The nation's 35 million Latinas have new reason to rejoice. Latina Media Ventures' Editor-in-Chief, Shirley Velasquez, today announced that Robyn Moreno, Emmy-nominated host and former Frisky.com, Woman's Day, In Style, and Latina editor, has been named Executive Editor, Beauty & Lifestyle.
Effective immediately, Robyn will oversee all the beauty and lifestyle content for Latina magazine and Latina.com. She will work closely with the magazine's new video franchises, producing and starring in a series that address the expanding and influential Latina beauty segment. Projects will include "Beauty on the Run" (easy, fast looks for the busy Latina), "Fearless Beauty" (inspirational and unconventional beauty looks) and "The Good Life with Robyn Moreno" (creative home, parenting, and wellness tips and tricks).
"Robyn has one of the most creative and keen minds in our business when it comes to finding and telling important stories through various media platforms," said Velasquez. "Her first job after graduating college was at Latina, and we are incredibly lucky to welcome back into our family."
Over the past decade, Robyn has been nominated for an Emmy as the host and producer of the lifestyle show Plum Daily Hamptons and has contributed editorial that has appeared in Elle, InStyle, Glamour, Cosmo for Latinas, Latina, Woman's Day & Woman's Day Latina, Manhattan, Beach, USA TODAY, The New York Daily News, Redbook.com, Jetsetter.com, Aloha.com, SheKnows.com, TheLatinKitchen.com, and About.com.
She has become one of the most sought-after lifestyle experts in the country based on her belief that personal style, along with beauty and joy, can be achieved easily in all areas of life, regardless of budget. This philosophy prompted her to publish a weekly newsletter and blog, Pockets of Pretty, at RobynMoreno.com and write a bestselling Amazon book, Practically Posh: The Smart Girl's Guide to a Glam Life (HarperCollins).
Robyn's warm and engaging personality and ease with people in front of the camera has made her one of the most in-demand television hosts and lifestyle experts in the country. She's seen regularly on The Today Show, Extra, The Meredith Vieira Show, The Steve Harvey Show, and Fox & Friends discussing chic DIY projects and offering her stylish-yet-affordable tips. Robyn is also an Emmy-nominated host and producer.
"Robyn brings a host of singular skills that will empower our team as we elevate the visibility of our brand and continue to move the Latina franchise forward," adds Velasquez.
Robyn is a native Texan and proud Latina of Mexican-American decent. She currently resides in Cold Spring, New York with her two daughters and husband. You can catch her speaking at the Omega Institute Women & Power 2015 conference leading a workshop titled "The Guru is You: Learn How to Trust Your Inner Voice."
Her new book, Hecho By You: Make a Life You Love From The Inside Out will be published in winter 2015.
###
About Latina Media Ventures:
Latina Media Ventures is a leading integrated media company for American Latinas. For close to two decades, the Latina brand has continuously provided unique, in-depth, culturally relevant and engaging content to the bicultural Hispanic woman across a variety of platforms including: Latina magazine, latina.com and TheLatinKitchen.com. With a total monthly audience of over 5 million, and reaching one out of every three acculturated Latinas across the United States, the Latina brand is the largest brand by and for Latina women.
[EDITOR'S NOTE: Robyn Moreno's bio, headshot and links to past television segments are available by contacting Christina Duffney at Christina(at)RobynMoreno(dot)com or (917) 841-6178.]