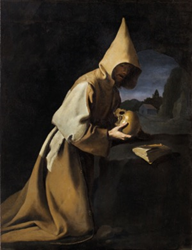 One of the great figures of European painting
Düsseldorf, Germany (PRWEB) September 09, 2015
Francisco de Zurbarán is regarded as not only one of the most important representatives of the Spanish Golden Age, but also as one of the great figures of European painting. About 70 works by the Spanish painter (1598 – 1664), who is known for still lifes and paintings of religious scenes and figures of great detail, realism, and masterful use of contrast of light and darkness, will be shown. Among them are many pieces that to date have never or rarely been shown.
Included are valuable loans from the Metropolitan Museum of Art (New York), the National Gallery London, and the Alte Pinakothek in Munich. The exhibition, which was conceived in close collaboration with the Museo Thyssen-Bornemizsa, Madrid, and curated in Düsseldorf by Beat Wismer jointly with Mar Borobia from the Museo Thyssen-Bornemisza and the Zurbarán expert Odile Delenda, ranges from the artist's early creations to his later masterworks. The show also introduces a number of rare still lifes by the painter's highly gifted son Juan de Zurbarán (1620-1649).
For more information on the exhibit, please visit http://www.smkp.de.
Düsseldorf's tourism office is offering hotel and city specials for stays in 2015. The package, called "Welcome2Art" can be booked right from the tourism office's website at https://www.duesseldorf-tourismus.de/nc/en/accommodation/hotel-packages/hotel-package-welcome2art/. Prices start at €58 per night per person based on double-occupancy for a 2-3-star hotel in the city center and at €93 per person for a 4-star hotel. The package includes breakfast, one DüsseldorfCard (free public transportation within city limits plus 30 free or reduced admissions to city attractions), a city information package, plus 1 ticket to the permanent collection at Museum Kunstpalast and one ticket to the permanent collection at Kunstsammlung NRW, K20 Grabbeplatz. Please check the website for current information.
# # #
Düsseldorf Marketing & Tourism GmbH is the visitors and convention bureau of the city of Düsseldorf. Its responsibilities include tourism and city marketing, as well as conference and meeting marketing, hotel reservation services, fairs and convention services, city event ticket sales and advance ticket reservations. For more information, visit http://www.visitduesseldorf.de.
Düsseldorf Airport, Germany's Next Generation HubTM, offers several non-stop flights from US cities (Atlanta, Chicago, Ft. Myers, Los Angeles, Miami, New York, Newark), as well as convenient connections to many European cities. For more information about the airport, visit http://www.dus.com.