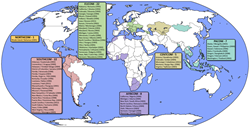 We are honored to offer the National Guard Bureau a secure, critical communications system to Guardsmen and their families, Chris Brown VP Global Operations
(PRWEB) September 09, 2015
Desktop Alert Inc. announced today that they are significantly expanding their role with the Nation Guard Bureau (NGB) in the areas of national and international mass notification, personnel accountably, and situational awareness. Utilizing Desktop Alert's award winning and patented software, this expansion brings mission-critical enhancements and overall cost savings to the National Guard's ability to:

Protect facilities, personnel and their families with full spectrum alerting, notification and personnel accountability.
Ensure frictionless bi-directional communications domestically between the NGB and state and local authorities to enhance the effectiveness of Defense Support to Civil Authorities missions.
Provide a common international alerting and communications platform for all 76 State Partnership Program member nations.
"We are honored to offer the National Guard Bureau a secure, critical communications system to Guardsmen and their families. In addition to providing bi-directional alerting and communication capabilities between the National Guard and the 76 member nations of the International State Partnership Program, this also provides a common communication framework to assist domestically with Defense Support to Civil Authorities missions in the 50 states and territories." said Chris Brown, Desktop Alert Vice President for Global Operations.
About the Sate Partnership Program:
The National Guard State Partnership Program (SPP) is a United States Department of Defense program managed by the National Guard that links U.S. States with partner countries around the world for the purpose of supporting the security cooperation objectives of the geographic Combatant Commands (CCMDs). By linking U.S. states with designated partner countries, the SPP aims to promote access, enhance military capabilities, improve interoperability and enhance the principles of responsible governance. Furthermore, the SPP aims to support several areas of potential interest to the US Congress, such as:
Helping prevent failed states and creating stable regions
Improving the capabilities of partner nations to protect their citizens
Strengthening relationships to facilitate access and interoperability
Improving cultural awareness and skills among U.S. military personnel
Fostering the integration of reserve and active component forces into a "total force"
All SPP activities are coordinated through the geographic Combatant Commanders, the U.S. Ambassadors' country teams, the partner State, and other agencies as appropriate, to ensure that National Guard support is tailored to meet both U.S. and country objectives. The unique civil-military nature of the National Guard allows active participation in a wide range of security cooperation activities, such as:
Emergency management and disaster response
Border and port security
Leadership and NCO development
Medical capacities
Economic security
Natural resource protection
Peacekeeping operations
Counter trafficking
Counter proliferation
Counter terrorism
About Desktop Alert https://www.desktopalert.net
Desktop Alert is a leading provider of enterprise mass notification and emergency communications to the United States Department of Defense. Its innovative and patented software has been internationally recognized as the "Best Mass Notification" and "Best First Responder Interoperable Communications" system. Desktop Alert provides a suite of scalable, flexible, and adaptable communication, collaboration, and situational awareness tools in environments ranging from austere - no terrestrial infrastructure support - to fully modern with extensive IP and legacy system integrations. Desktop Alert allows individuals and organizations to increase the volume and velocity of information in order to ensure effective decision making, coordination, proactive community engagement, and public awareness. For more information, please visit http://www.desktopalert.net