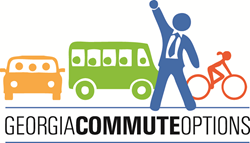 Atlanta, GA (PRWEB) September 09, 2015
Georgia Commute Options, a Georgia DOT program designed to encourage alternatives to driving to work alone, is helping highlight the way clean commuting can reduce parking demand during "PARK(ing) Day" on Friday, September 18. PARK(ing) Day is a worldwide open-source event created by REBAR Group in which citizens convert parking spaces into temporary public park spaces.
The cost to construct a parking structure in Atlanta averages at $15,783 per space, or $47.29 per square foot (Source: Parking Structure Cost Outlook for 2014 – Carl Walker). Increased demand for parking is, therefore, a costly challenge for growing cities. Since ridesharing and clean commute options like carpooling, vanpooling, taking transit, teleworking, walking or biking to work can reduce the demand for parking spaces, the Georgia Commute Options outreach team is happy to join metro Atlanta employers to celebrate PARK(ing) Day and promote clean commuting at installations across the region.
Georgia Commute Options employer/property manager partners will feature the following PARK(ing) Day celebrations on September 18:

Mansell Overlook: Fall Festival
Northcreek Office Park: Bike maintenance stations
Delta Air Lines: "Another kind of Carpool," with an improvised pool party
Centers for Disease Control and Prevention: Bike maintenance stations
Zoo Atlanta: Mini Zoo, featuring small animals, games and prizes open to the public
Panasonic: Game Day
Georgia DOT TMC Office: Picnic in the Park
Georgia DOT District 7 Office: Tailgate
For more information on how offering clean commute options for employees can reduce parking demand at job centers, visit GaCommuteOptions.com.
About Georgia Commute Options
Georgia Commute Options, a program funded by the Georgia Department of Transportation, helps commuters, employers and property managers take advantage of alternatives to driving alone to and from work. Georgia Commute Options reports that every day in metro Atlanta, the use of commute alternatives such as carpooling and transit results in 1.1 million vehicle miles not traveled and 550 tons of pollution kept out of the air. For more information, visit http://www.GaCommuteOptions.com.
# # #