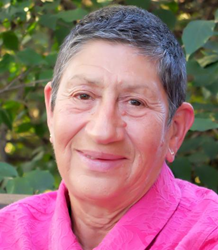 We are pleased to welcome Elaine to the O'Keeffe family and look forward to benefiting from her global experience with renowned Museums
Santa Fe, NM (PRWEB) September 09, 2015
FOR IMMEDIATE RELEASE—The Georgia O'Keeffe Museum is pleased to welcome Museum Studies Fellow-In-Residence Elaine Heumann Gurian from September 21 to October 23, 2015. The Georgia O'Keeffe Museum's Museum Studies Fellowship Program appoints one museum professional per year for a month-long residency in Santa Fe, New Mexico.
This year's recipient is the esteemed museum consultant and writer, Elaine Heumann Gurian. Gurian is an academic, writer and lecturer in Museum Studies programs around the world. Her area of expertise is helping museums that are "beginning, building, or reinventing themselves." She counts the Museum of the City of London, UK; The Exploratorium, San Francisco; and the Detroit Zoo among her list of current clients. Gurian has served as the deputy director of both the Smithsonian Museum and the United States Holocaust Memorial Museum in Washington, DC.
"We are honored to receive a fellow of Ms. Gurian's reputation and merit in residence at The Georgia O'Keeffe Museum. Ms. Gurian will be meeting with all departments of the museum and looking at the strategies employed by the museum to tell stories and engage patrons," said Eumie Imm Stroukoff, Emily Fisher Landau Director of the Research Center.
The Museum Studies Fellowship Program provides opportunities to the community of museum professionals for collaborative work and the exploration of new ideas, as well an opportunity for museum professionals to work on their own independent research. The appointment is by invitation only.
"The Museum Studies Fellowship program is a wonderful opportunity to exchange knowledge in the field of museum studies and ultimately benefit the local museum community," added Robert A. Kret , Georgia O'Keeffe Museum Director. "We are pleased to welcome Elaine to the O'Keeffe family and look forward to benefiting from her global experience with renowned Museums."
Gurian will present a public program on October 21, 2015 from 6—7:30 pm in the Education Annex.
###
About the Georgia O'Keeffe Museum:
To inspire all current and future generations, the Georgia O'Keeffe Museum preserves, presents and advances the artistic legacy of Georgia O'Keeffe and modernism through innovative public engagement, education, and research. Opened in Santa Fe, New Mexico in 1997, the Museum counts O'Keeffe's two New Mexico homes as part of its extended collection. The Museum's collections, exhibitions, research center, publications and educational programs contribute to scholarly discourse and serve a diverse audience. For more information please visit okeeffemuseum.org
About the Georgia O'Keeffe Museum Research Center:
The Georgia O'Keeffe Museum Research Center opened in July 2001. Research in American Modernism is pursued through fellowship programs, as well as through public lectures, a triennial Book Prize, symposia, and other activities. The Research Center has library and archival collections related to Georgia O'Keeffe, her contemporaries, American Modernism, and related regional histories. Since its inception, over 70 scholars have received stipends in its fellowship program and spent time in Santa Fe pursuing independent research in a variety of areas, including: art, architecture and design, literature, music and photography. In 2014, the Research Center is expanding the scope of its scholarly research to include museum studies and initiated the Museum Studies Fellowship program.