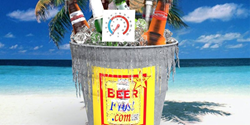 (PRWEB) September 10, 2015
Beer Frost was featured on NewsWatch as part of its monthly Biz Report, which takes a look small, medium, and large businesses making an impact in their industry. Andrew Tropeano, the host of NewsWatch and business expert, conducted the business review and shared with viewers how this scientifically engineered product that will take ice from 30 degrees to -10.
There's only a few weeks left of summer weather. That means that people need to get outdoors and host cookouts, visit beaches, and go camping while they can. And as everyone knows, all of these outdoor activities need a cooler for food and drinks. But not everyone knows that they also need Beer Frost, a cooler's perfect companion.
Beer Frost is a new scientifically engineered product that will take ice from 30 degrees to -10 in about 30 minutes. To use it, people need to pack their cooler with ice and beer, sprinkle Beer Frost on the ice, and then pack more ice on top. It only takes 30 minutes for the ice to the ice to be perfectly cold.
Not only will people have colder drinks and food but you'll have longer lasting ice as well. In fact, where usually ice will last less than one day and need to be replaced, Beer Frost can last up to 3, paying for itself. One packet works with 20 pounds of ice and each one is only $3.99.
To learn more, visit http://www.beerfrost.com today.
About NewsWatch
NewsWatch is a weekly 30-minute consumer oriented television show that airs on the Discovery Channel and ION Network. NewsWatch regularly features top technology products and services, mobile applications for iOS, Android, and Windows devices, unique and beautiful travel destinations around the world, health and medical tips, and entertainment interviews on the show. NewsWatch airs on the Discovery Channel at 7:00 – 7:30 AM ET/PT.
NewsWatch is located in the greater Washington, DC area and has been on air for over 25 years. For more information or to watch the most recent episode, visit http://newswatchtv.com/biz-report.html.