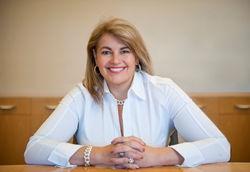 Choctaw, MS (PRWEB) September 09, 2015
The Choctaw Resort Development Enterprise (CRDE), a business enterprise of the Mississippi Band of Choctaw Indians, today announced the resignation of Holly Gagnon, the chief executive officer of Pearl River Resort. Gagnon's departure will be effective September 22, 2015. The CRDE Board will name an acting CEO before Gagnon's departure.
During her tenure, Gagnon has moved the resort in a new direction by placing high priority on improvements to gaming, hospitality and guest services at the resort. Among her many accomplishments, she recruited an experienced and respected executive team, oversaw the stabilization and growth of the Resort's finances, and led the design, construction and opening of the Golden Moon gaming floor and the renovation of the Resort's hotels and common areas. Gagnon's efforts, along with her executive team and staff, have repositioned Pearl River Resort as the Southeast's number one Resort destination.
"PRR now has a strong executive team and solid business plan that I believe will result in even greater success in the future," said Gagnon. "In addition, the many improvements to the Resort and upgraded food and beverage offerings provide world class amenities for our loyal patrons and team members."
"We appreciate Ms. Gagnon's dedication to Pearl River Resort for the last three years and wish her well in her future endeavors," said Tribal Chief Phyliss J. Anderson. "The CRDE Board will take the proper amount of time to search for the best candidate for President and CEO to lead the Resort. The Board is confident that the current management team is highly capable of continuing the Resort's upward path until a new President and CEO is selected."
ABOUT PEARL RIVER RESORT
Owned and operated by the Mississippi Band of Choctaw Indians, Pearl River Resort is the South's premier resort destination. Pearl River Resort's portfolio of assets includes Silver Star Hotel & Casino, Golden Moon Hotel & Casino, Dancing Rabbit Golf Club, and Geyser Falls Water Theme Park located in Choctaw, Mississippi and Bok Homa Casino located in Sandersville, MS.
The Silver Star and Golden Moon Casinos feature a variety of gaming options, hotel rooms, dining options, retail offerings, conference facilities, live entertainment and a full service spa. The all-new Pearl River Resort also offers a new gaming floor with the latest first-in-state slot machines, elevated poker room, remodeled hotel rooms, a stunning video wall, refreshed buffet, updated promenade, and more. Also featured is Dancing Rabbit Golf Club with two championship golf courses and Geyser Falls Water Park. Bok Homa Casino features over 700 slot machines, event center and a fabulous quick serve eatery.
###