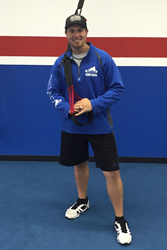 I am so excited to bring the best thing in the fitness industry to our area.
Sioux Falls, S.D. (PRWEB) September 15, 2015
CJ Wehrkamp, owner of the Sioux Falls Fit Body Boot Camp, will host a Grand Opening event on September 26, 2015 from 11 am – 3 pm at 3504 S. Minnesota Ave. #110 Sioux Falls S.D., 57105. The event will feature food and beverages, a bounce house, and a raffle. The event will also feature "sneak peek" boot camp sessions every hour.
Fit Body Boot Camp is the world's fastest growing and most popular indoor fitness boot camp brand, with hundreds of locations worldwide. The boot camp's unique brand of fitness combines individualized personal training from licensed professionals, clinically proven Afterburn workouts, and nutritional guidance to guarantee weight loss results.
"I am so excited to bring the best thing in the fitness industry to our area," said Wehrkamp, "The amount of energy in the gym when class is in session is electrifying, and to see people having a complete blast while getting in shape is the best feeling ever! We are ready to change the look of this town one body at a time and make Sioux Falls one of the healthiest places to live!"
Mr. Wehrkamp has followed his passion for personal fitness ever since his high school days. He went on to receive his certification as a personal trainer and nutrition consultant from the National Personal Training Institute. After working as a one-on-one trainer, he realized that he wanted to reach a larger group of people, so he chose to open a Fit Body Boot Camp. Now, he is excited to offer his fitness expertise to the entire Sioux Falls community.
"…when I found that I could make a career out of helping people change their lives and win back their health," he said, "I was all in!"
Raffle prizes at the event will include an Apple iPad and a free 6-month membership at Sioux Falls Fit Body Boot Camp. In addition, Wehrkamp will offer special promotional deals to any visitor who wishes to sign up for the program at the event.
In the spirit of community contribution, Wehrkamp hopes to raise $2500 as a gift to the local Boys & Girls Club. His contribution will go towards buying equipment for their healthy lifestyles program.
"Statistics have proven that the next generation will be the first that will not out live their parents," he said, "I feel it is very important to get the kids of our community out and active and provide the means for them to grow with a foundation of health."
About Sioux Falls Fit Body Boot Camp:
Sioux Falls Fit Body Boot Camp is a part of the Fit Body Boot Camp family of indoor fitness boot camps, whose global goal is to engage 20% of the world's population in a healthy and fit lifestyle by the year 2020. Sioux Falls Fit Body Boot Camp is owned and operated by CJ Wehrkamp. Wehrkamp is committed to helping members of the Sioux Falls community set and accomplish their own health and fitness goals.
For more information about Sioux Falls Fit Body Boot Camp, please call:
(605) 951-9348
Visit their website at:
http://www.fitbodybootcamp.com/siouxfallsfitnessbootcamp/
Or their Facebook page at:
https://www.facebook.com/siouxfallsfitbody