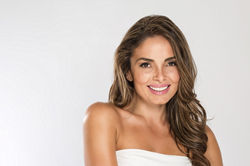 Riczabeth is a source of genuine beauty, demonstrated not only in her outward appearance but through her giving spirit, and she is an inspiration for today's generation.
Coppell, Texas (PRWEB) September 10, 2015
Mannatech, Incorporated (NASDAQ: MTEX), the founder of the M5M℠ (Mission 5 Million℠) Foundation, the pioneer of nutritional glycobiology and the global innovator of naturally sourced supplements based on Real Food Technology® solutions, announced it has named actress Riczabeth Sobalvarro as the Latina face behind its Generation Ūth Skincare System, a three-part skincare combination that cleanses, rejuvenates and hydrates the skin.
As the Latina face of Generation Ūth Skincare, Sobalvarro will be seen in upcoming promotional materials for the Generation Ūth products and will host events promoting the brand, business and the M5M Foundation cause.
"Riczabeth is a source of genuine beauty, demonstrated not only in her outward appearance but through her giving spirit, and she is an inspiration for today's generation," said Mannatech CEO and President, Al Bala. "Her passion for the creative arts, health and wellness and the basic nutrition rights of children makes her a perfect fit as an ambassador of our Generation Ūth Skincare line, which seeks to reveal not only beautiful skin, but a source of hope for many of our customers and sales Associates."
Sobalvarro began her acting career in her home country of Venezuela and later arrived in the United States in 2003 to star in Univision series such as "Rebecca" and "Las Dos Caras de Ana." She has also acted in popular Latin television series such as "Dame Chocolate," "Pecados Ajenos," "Alguien Te Mira," "Marido en Alquiler" and in the film "Amor Violento." She has recently accepted a role in the upcoming Unimas series "Ruta 35."
While acting remains her "day job," Sobalvarro is also passionate about wellness and beauty, and she became a Mannatech independent sales Associate in 2010. She is now a National Director, promoting Mannatech products, the business opportunity and the M5M Foundation, which helps fight childhood malnutrition around the world.
Mannatech's Generation Ūth Skincare System is a beauty product trio designed to reinforce and support beautiful looking skin. All three Generation Ūth products combine the finest ingredients with the most advanced skincare technologies. The Ūth Facial Cleanser gently cleanses and exfoliates the skin with ingredients such as milled grape seed, infused with powerful antioxidants and sunflower seed oil. The gluten and paraben-free Ūth Skin Rejuvenation Crème helps restore a youthful appearance by using Mannatech's unique microsphere delivery system that is designed to penetrate the deepest layers of the skin, stimulating collagen production. Lastly, the Ūth Moisturizer helps lock in daily hydration to reduce the appearance of fine lines and wrinkles.*
For more information on Generation Ūth Skincare, please visit the Facebook page and the Mannatech.com website.
About Mannatech
Mannatech, Incorporated, develops high-quality health, weight and fitness, and skin care products that are based on the solid foundation of nutritional science and development standards. Mannatech is dedicated to its platform of Social Entrepreneurship based on the foundation of promoting, aiding and optimizing childhood nutrition where it is needed most around the world. Mannatech's proprietary products are available through independent sales associates around the globe including the United States, Canada, South Africa, Australia, New Zealand, Austria, Denmark, Germany, Norway, Sweden, the Netherlands, the United Kingdom, Japan, Taiwan, Singapore, Estonia, Finland, the Republic of Ireland, Czech Republic, the Republic of Korea, Mexico, Namibia, Spain and Hong Kong. For more information, visit Mannatech.com.
Please note: This release contains "forward-looking statements" within the meaning of Section 27A of the Securities Act of 1933, as amended, Section 21E of the Securities Exchange Act of 1934, as amended, and the Private Securities Litigation Reform Act of 1995. These forward-looking statements generally can be identified by use of phrases or terminology such as "intend" or other similar words or the negative of such terminology. Similarly, descriptions of Mannatech's objectives, strategies, plans, goals or targets contained herein are also considered forward-looking statements. Mannatech believes this release should be read in conjunction with all of its filings with the United States Securities and Exchange Commission and cautions its readers that these forward-looking statements are subject to certain events, risks, uncertainties and other factors. Some of these factors include, among others, Mannatech's inability to attract and retain associates and members, increases in competition, litigation, regulatory changes and its planned growth into new international markets. Although Mannatech believes that the expectations, statements and assumptions reflected in these forward-looking statements are reasonable, it cautions readers to always consider all of the risk factors and any other cautionary statements carefully in evaluating each forward-looking statement in this release, as well as those set forth in its latest Annual Report on Form 10-K and Quarterly Report on Form 10-Q, and other filings filed with the United States Securities and Exchange Commission, including its current reports on Form 8-K. All of the forward-looking statements contained herein speak only as of the date of this release.
*Based on human clinical studies conducted by Thomas J. Stephens & Associates, Inc, Carrollton, TX. Individual results may vary.