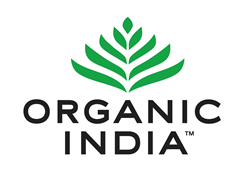 Boulder, CO (PRWEB) September 10, 2015
ORGANIC INDIA USA, leading mission-driven manufacturers of herb-based wellness teas and functional supplements, announced today that it has been certified as a B Corporation. This certification continues ORGANIC INDIA's commitment to higher standards of social and environmental performance, transparency, and accountability as they join an exclusive community of revolutionary B Corp businesses.
"ORGANIC INDIA is more than just a brand that provides organic, pure, and sustainably-sourced products to communities worldwide. For the last two decades we have worked extremely hard to support regenerative organic agricultural practices that serve Mother Nature and enhance the livelihood and well-being of farmers in India," said Kyle Garner, CEO of ORGANIC INDIA USA. "Receiving a B Corporation Certification is a huge milestone for us, and further affirms our vision. It is an honor to be recognized amongst a community of like-minded businesses that believe in sustainability, ethical sourcing and the well-being of people and the planet."
B Corps set a higher standard for businesses and redefine success in business—to be the best in the world and do what is best for the world. B Lab, a nonprofit organization that serves a global movement of "People Using Business as a Force for Good," measures a company's impact on its stakeholders, from workers, suppliers, community, to the environment. ORGANIC INDIA USA now joins 1,350 Certified B Corporations from more than 120 industries in over 40 countries. ORGANIC INDIA USA surpassed the median score among B Corps, scoring 103 on its B Impact Report.
Adding to the brand's new B Corporation Certification, ORGANIC INDIA's teas and supplements are also USDA certified organic, Non GMO Project verified and Kosher & Halal certified.
To view ORGANIC INDIA USA's B Corp profile, visit:
https://www.bcorporation.net/community/organic-india-usa
About ORGANIC INDIA:
ORGANIC INDIA offers over 50 premium, high potency herbal teas, supplements and personal products based on the principles of Ayurvedic medicine. Most products feature the key ingredient Tulsi (Holy Basil, "Queen of Herbs"), an adaptogen that supports the immune system, stress management and enhances the functional properties of other ingredients. Since 1999, ORGANIC INDIA has worked directly with thousands of family farmers in India, creating sustainable communities through fair-market agriculture, access to healthcare, education and gender equality and empowerment programs. ORGANIC INDIA products are certified organic and wildcrafted on over half a million acres of traditional and converted farmland throughout India. For more information on ORGANIC INDIA USA, or its 2,000 retailers, visit http://www.OrganicIndiaUSA.com or join the community at https://www.facebook.com/OrganicIndiaUSA @OrganicIndiaUSA
About B Corporations
Certified B Corporations meet the highest standards of overall social and environmental performance, legally expand their corporate responsibilities to include consideration of stakeholder interests, and build collective voice through the power of the unifying B Corporation brand. There are more than 1,350 Certified B Corporations from over 120 industries and nearly 50 countries with 1 unifying goal – to redefine success in business. B Corporations are leaders of the global movement of People Using Business as a Force for Good.
About B Lab
B Lab is a nonprofit organization that serves a global movement of People Using Business as a Force for Good. Its vision is that one day all companies will compete to be Best for the World and as a result society enjoys a shared and durable prosperity. B Lab drives this systemic change through a number of interrelated initiatives: 1) building a community of Certified B Corporations to make it easier for all of us to tell the difference between "good companies" and good marketing; 2) promoting usage of Mission Aligned corporate structures to increase efficacy of social entrepreneurship and impact investing (more than 2,000 benefit corporations have been registered in the 27 states and District of Columbia that have passed benefit corporation laws); 3) promoting Measure What Matters campaigns to increase use of free, powerful tools for businesses to measure, compare and improve their social and environmental performance (more than 20,000 businesses use B Lab's free B Impact Assessment). 4) developing B Analytics, a customizable platform to help investors and institutions measure, benchmark, and report on the impact of the businesses with whom they work and in whom they invest. For more information, visit http://www.bcorporation.net, http://www.bimpactassessment.net, http://www.b-analytics.net and http://www.benefitcorp.net.