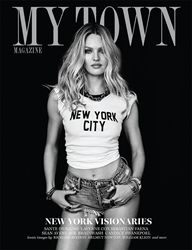 Throughout the pages, with original coverage we celebrate the artistic expression, lifestyle, landscape and skyline that can only be found in New York.
New York, New York (PRWEB) September 10, 2015
TOWN Residential, New York's leading luxury real estate services firm, announces the inaugural issue of My Town (http://townre.nyc/MyTown_Issue1), a first-of-its-kind lifestyle magazine that provides an insider's view of New York City. TOWN Residential founder and CEO Andrew Heiberger, Brooklyn-born creative guru David Lipman, and the editorial team of The Daily Front Row collaborated in the creation of a new style of luxury magazine, the perfect expression of TOWN Residential's best in class commitment.
"There is a unique chemistry in New York in which the accomplished and those who aspire to accomplish share our restaurants, parks, museums and neighborhoods. People are brave and bold - boundaries are challenged and bars are raised. The energy is magnetic," said Andrew Heiberger, founder and CEO of TOWN Residential and publisher of My Town. "I am humbled to be the publisher of the inaugural issue. Throughout the pages, with original coverage we celebrate the artistic expression, lifestyle, landscape and skyline that can only be found in New York."
"When Andrew originally came to me about TOWN, we discussed living in New York and TOWN being woven into the soul of the city. Buying a home in New York City is not just buying four walls, it is an investment in the city itself. As our conversations turned to the magazine, we knew that it could not be just another magazine – it had to convey the dream," said Lipman. "My Town had to be original and had to communicate New York City yesterday, today and tomorrow. I called all of my friends to work with me – Sante, Sebastian, Laverne, Sean, Candice, and the next generation of greats – whether born here or from afar, we all live here. This project has been a true labor of love and I have put my heart into it."
"The Daily Front Row's New York DNA has been a key ingredient in our publication's success as an original fashion media phenomenon. Needless to say we jumped at the opportunity to edit My Town, a unique luxury magazine that offers a striking vision of the city as fountain of inspiration for the brightest talent in art, photography, fashion, media, architecture, design, cuisine, and more," said Brandusa Niro, Editor in Chief of The Daily.
Beginning with the cover and feature story of international super-model Candice Swanepoel by legendary fashion photographer Sante D'Orazio, readers will enjoy nearly 200 pages of comprehensive editorial coverage and visually stunning images of people, trends and moments that define our town.
Stories include:

Award winning actress and LGBT advocate Laverne Cox, photographed by David Lipman at the Meatpacking District's iconic locale Hogs and Heifers, discussing breaking down boundaries, defying expectations and living authentically.
Next Generation Portfolio - the talent, from different walks of life, that's shaping New York, photographed by Sebastian Faena.
Profile of living golf legend and Olympic hopeful Cristie Kerr, the highest earning American women's golfer of all-time and 3rd overall in the history of the LPGA Tour.
Iconic fashion moments
A candid Q&A with Mr. Brainwash on how his passion for life and love is expressed through his art
New York City through the eyes of its youngest residents
New York Cuisine royalty
Insightful moments with TOWN Representatives, photographed by Lipman, on the role of the agent, emotions experienced, and favorite New York-centric experiences
Hockey great, model, restaurateur and Hamptons developer Sean Avery
Donna Karan on style and home
Next Generation: The City's NEXT Top Developers
Buzziest new projects transforming the New York City skyline
"Today's real estate representatives are taste makers and influencers. They are ambassadors of our town – we are introducing a much deserved professional change in perception of the role of the agent. To be among the visionaries and leaders of this shift and witness to the higher standards our agents stand for brings me true joy," said Heiberger.
My Town luxury lifestyle approach contributes to the understanding of the vast cultures and the neighborhoods with a level of introspection that will truly mold and shape tomorrow's neighborhoods and building designs.
"My Town is a shining example of a new trend in publishing, backed by sophisticated real estate entities who have become an integral part of the zeitgeist," said Jared Cohen, TOWN Residential Marketing Manager and General Manager of My Town.
My Town Contributors include:

Brooklyn-born fashion photographer Sante D'Orazio began his illustrious career with Italian Vogue in 1981, and has included prestigious publications like Andy Warhol's Interview magazine, Vanity Fair, GQ, and Vogue. His alluring and provocative photos have been celebrated world-wide through books and displays including an exhibit featured at the Anonymous Gallery/Collective Hardware in New York City; the LA County Museum; the Cameraworks Gallery in Berlin; and the Hilario Galguera Gallery in Mexico City.
Celebrity photographer Sebastian Faena is a highly acclaimed fashion photographer who recently photographed Carine Roitfeld's project that spanned all 30 editions of Harper's Bazaar. The immediately iconic photos of 19 women include Lady Gaga, Penélope Cruz, Linda Evangelista, Cindy Crawford, Claudia Schiffer, Stephanie Seymour, Iman, Stacy Martin and Lauren Hutton.
Celebrated writer and editor Glenn O'Brien's credits began with Andy Warhol's Interview Magazine, Rolling Stone, and Spin Magazine which he co-founded and includes Paper, Vogue, Harper's Bazaar, Details, and GQ among many other celebrated titles. Glenn's work has touched and influenced the music industry, high fashion, publishing, television and film.
Craig Lowell is an accomplished New York City-based writer and editor. With specialties and experience spanning from luxury to sports, Craig's work has appeared in Sports Illustrated, Gawker Media, NBA TV among others.
Premiering September 10, 2015, the magazine will be personally delivered to 250 attendees at the exclusive Fashion Media Awards and celebrated at a VIP event on the TOWN West Village rooftop on September 16. The magazine will also be distributed throughout Fashion Week at runway shows and through the TOWN offices.
About TOWN Residential: TOWN Residential is New York's leading luxury real estate services firm. Founded in 2010, TOWN Residential was created by CEO and co-chairman Andrew Heiberger and is co-chaired by Joseph Sitt. An integral part of the New York real estate landscape, TOWN has a team that exceeds 650 licensed professionals and staff in the corporate headquarters at 25 West 39th Street and nine neighborhood offices: TOWN Greenwich Village, at 530 LaGuardia Place; TOWN SoHo, an 1886 landmarked corner storefront at 337 West Broadway; TOWN 79th Street, a corner storefront at 239 East 79th Street on the Upper East Side; TOWN West Village, a trophy office at 446 West 14th Street; TOWN Astor Place, a block-storefront space overlooking historic Astor Place in the Gwathmey Siegel-designed Sculpture for Living at 26 Astor Place; TOWN Fifth Avenue, located in the prestigious Crown Building at 730 Fifth Avenue at 57th Street; TOWN Flatiron, located at 110 Fifth Avenue and 16th Street; TOWN Greenwich Street, nestled in the heart of the Financial District at 88 Greenwich Street; and TOWN Gramercy Park at historic 33 Irving Place. For more information about these offices and TOWN Residential, visit http://www.townresidential.com.