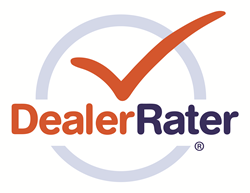 DealerRater is meeting a consumer need, not unlike how Twitter and Facebook have shaped the way people share information with one another.
Waltham, Mass. (PRWEB) September 11, 2015
DealerRater – the car dealer review site for consumers – today reported 59,814 consumer reviews were submitted on DealerRater.com in August, which marks a 69 percent increase over August 2014.
"August was our biggest month ever for submitted reviews," said Gary Tucker, DealerRater's CEO. "The dramatic increase in reviews submitted to DealerRater.com reflects how consumers are embracing third-party reviews during the shopping process and sharing their experiences afterwards. DealerRater is meeting a consumer need, not unlike how Twitter and Facebook have shaped the way people share information with one another."
DealerRater attributes the increase in reviews partly to review-generating products like ReviewBuilder™, the newest addition to DealerRater's Certified Dealer Program suite, which offers dealers the opportunity to accelerate and automate their customer review solicitation efforts – earning them more reviews, faster – and LotShot™, a photo review app. Additional contributors are the Hyundai Advantage Program – a recently announced partnership between DealerRater, J.D. Power and Hyundai Motor America that invites every new Hyundai owner to leave a review on DealerRater.com – and a partnership with Autotrader, which enables visitors to the car shopping site to read and write DealerRater reviews.
The Hyundai Advantage Program is delivering for dealers with a 366 percent increase in submitted reviews since January.
"We verify every review to ensure it's submitted by an actual person. Our reviews average more than 100 words, so people are telling a story that will help interested shoppers make a connection with a dealer and an employee at that dealership, and select the best dealership and salesperson for them," said Tucker. "DealerRater.com specializes in one industry – automotive – making for an exceptional customer experience for those writing and reading reviews about car dealers. We recently surpassed two million reviews and expect to reach three million sometime next year."
On average, DealerRater collects 2,000 reviews a day and, at times, three reviews per minute.
Tucker adds, "The power of DealerRater's SEO performance helps get a top position in search results, leading to more traffic on dealers' websites and more customers in their showrooms and service drives. Ninety-five percent of all search traffic goes to page one of the search engine results page (SERP) listings, with the first organic result receiving 32.5 percent of overall traffic in terms of clicks. Ultimately, more reviews translates to more customers and we're happy to provide this valuable service to our colleagues in the industry."
About DealerRater
DealerRater was founded in 2002 as the first car dealer review website worldwide. With more than two million consumer reviews and 41,000 U.S. and Canadian dealers featured on the site, DealerRater is the world's No. 1 online resource for anyone seeking trusted, third-party information on automobile dealerships. More than 14 million consumers read DealerRater review content across the Web each month.
DealerRater offers qualified car dealers a Certified Dealer Program as a reputation-building management tool to help them grow their online presence and achieve higher SEO rankings across the Web. Its national network of more than 5,600 dealers are members of the award-winning DealerRater Certified Dealer Program. DealerRater is well poised to continue its global expansion, accelerate product innovation and evaluate strategic acquisition opportunities with a recent equity investment from Great Hill Partners, a Boston-based private equity firm focused on growth companies. DealerRater was also recently awarded a Technology Leadership Award from Dealer Marketing Magazine and its third consecutive "Top Rated" Reputation Management award in the fifth annual DrivingSales Dealer Satisfaction Awards. For more information, visit http://www.DealerRater.com or call 800-266-9455.
# # #