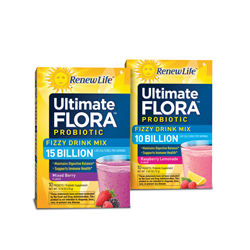 Ultimate Flora™ Probiotic Fizzy Drink mix is a great-tasting, new way to support digestive and immune health!*
Clearwater, FL (PRWEB) September 14, 2015
"Our Ultimate Flora Probiotic Fizzy Drink Mix answers the need for adults who have difficulty swallowing capsules, or for those who simply appreciate a great-tasting new way to support digestive and immune health,"* stated Bonnie Cooper, Renew Life Vice President of Marketing.
Ultimate Flora Probiotic Fizzy Drink Mix
Popping with probiotic power, each serving of Ultimate Flora Probiotic Fizzy Drink Mix contains either 10 or 15 billion live cultures per serving from 5 beneficial probiotic strains to promote digestive balance and support immune health―all in a delicious drink mix bursting with fruit flavors.* A snap to make, just add water for a sparkling dose of good-for-your-gut ingredients.* They are available in 10 convenient single-serve packets per carton in mixed berry and raspberry lemonade flavors to enjoy at home or on-the-go. All Ultimate Flora probiotics are guaranteed for quality, purity, and potency through expiration, and have no artificial ingredients.
Why Choose Ultimate Flora Probiotics?
Did you know there are 100 trillion bacteria inside your digestive tract? To keep that complex system thriving, Ultimate Flora probiotic formulas work hard to boost the good bacteria that occur in a naturally healthy gut.* Supporting good balance among all the diverse microbes in your gut is key to well-being. But stress, aging, diet, and other issues can upset this delicate equilibrium. Ultimate Flora Probiotics are formulated with billions of live cultures in each serving, with multiple strains of Bifidobacteria and Lactobacilli, the most prevalent and scientifically researched good bacteria found in a naturally diverse and healthy gut.*
Digestive Care, Naturally
For nearly two decades, Renew Life has been empowering people to elevate their quality of life through better digestive health. Renew Life formulates their digestive care supplements with superior-quality ingredients, and they stand behind the purity, potency, and efficacy of every product.
For additional information about Renew Life Ultimate Flora Probiotic Fizzy Drink Mix, please contact Bcooper(at)renewlife(dot)com.
*These statements have not been evaluated by the Food and Drug Administration.
These products are not intended to diagnose, treat, cure or promote any disease.