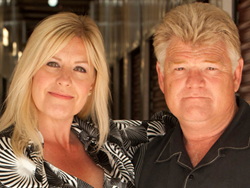 Dan Dotson made a video, asking the Mormon Church to take accountability for their actions for the Mountain Meadows Massacre
San Bernadino, CA (PRWEB) September 10, 2015
Storage Wars Auctioneer, Dan Dotson reminds people of the other 9/11 American tragedy. This Friday is a day of remembrance for all Americans. Dan Dotson wants Americans to remember not only the tragedy from 2001, but also the Mountain Meadows massacre of 1857 of which greatly affected his ancestors. The Mountain Meadows massacre involved a group of people who were relocating from Arkansas to California that were killed by a Mormon militia while passing through southern Utah.
In 1847 Dan's ancestors used to drive cattle from Arkansas to California, first in 1847, 1852, and lastly in 1857 when they brought their children and families families along with nine hundred head of cattle and horses. There were twenty-eight families in this wagon train that comprised of fourty wagons and on the morning of Sept 7th, Mormon militia dressed as Paiute Indians and killed seven of Dan's ancestors. The fight continued for four days and on Sept 11th John D. Lee, the first adopted son of Brigham Young, convinced the group to trust the Mormons with safe passage to California.
However, the militia disarmed the group and separated all children seven years old and younger. All but the children, were stretched in a line over a mile and a quarter long, and John D. Lee gave the order and everyone except seventeen young children, 120 in all, were murdered and robbed and 29 of those people were relatives of Dan Dotson.
Dan and Laura are part of the MMMF (Mountain Meadows Monument Foundation) whereas they have tracked all but one of the survivors and placed a plaque telling this story. The Dotsons have also registered the first cattle brand that displays the "JF Rocking Brand" in Tulare County (Fresno, CA). The initials "JF" stand for John Fancher, the brother of Alexander Fancher who is one of Dan Dotson's ancestors and whose family was killed in the massacre. The MMMF and the Dotson's also own several depositories around the county that include this story and they have recently acquired an area 40 miles South of St George, Utah as a federal historical site.
Dan Dotson has no hate towards Mormons or the Mormon church, but he did make a video asking the Mormon Church to take accountability for their actions for this massacre. https://www.youtube.com/watch?v=HZxvXoSbJWc
About Dan and Laura Dotson
Dan and Laura have achieved seventy-five years of combined experience in sales and auctioneering in the areas of: self-storage auctions, estates auctions, business liquidations, fund raisers, moving and storage, abandoned personal property, and they even provide appraisals for banks and the private sector all through their industry leading company American Auctioneers. The live auctions, estate sales, and business liquidations that have booked Dan and Laura have experienced greater success in their sales due to the couple's expertise and diligence in preparation and appropriate listing of the items.
Their website, AmericanAuctioneers.com, provides a wide variety of information including; upcoming live auctions, notification sign ups, and they have just announced that they are now hosting their own online auctions. To learn more about Dan and Laura and for booking and auction schedules visit http://www.AmericanAuctioneers.com