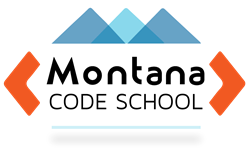 Missoula, MT (PRWEB) September 10, 2015
Montana Campus Compact AmeriCorps*VISTAs are hosting a fundraiser on September 11th in an effort to raise $2,000 toward a scholarship for a veteran or their family member to attend the Montana Code School. The Montana Code School is launching its pilot class on September 28th, 2015, which will train junior programmers by the conclusion of the twelve-week boot camp, and the VISTAs are hosting this fundraiser in an effort to subsidize the cost of the class. Supporters of this fundraiser can donate through the "text to donate" platform by texting the word "America" to 501501, or donate online at MontanaCodeSchool.com/Donations.
Another way community members can show their support for this scholarship is by dining at the popular downtown restaurant, Five on Black, where a percentage of revenue on September 11 will be donated to the Montana Code School's scholarship fund.
Veterans are faced with enormous obstacles, both nationally, and right here in Montana. One of the most common challenges is unemployment, or underemployment—in fact, according to 2015 Veteran Economic Opportunity Report, 53% of separating Post-9/11 veterans face a period of unemployment. Addressing this problem is crucial to the success of veterans and their families, and one way to alleviate it is by offering training in high demand job sectors, such as programming.
According to the Montana Bureau of Business and Economic Research and Montana High Tech Business Alliance, those employed in high tech jobs earn twice as much as the average Montanan, which makes coding a great career for a veteran.
Employment opportunities in programming continue to grow, and to extend these opportunities to veterans helps ease some of the burden that our veterans face when they come home. This September 11, do more than remember.