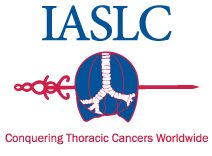 The array of scientific discovery shared in Denver was remarkable.
Denver, Colo. (PRWEB) September 11, 2015
Thousands gained new insights and hope from the four-day World Conference on Lung Cancer (WCLC) hosted by the International Association for the Study of Lung Cancer (IASLC) in Denver, Colo. on Sept. 6-9, 2015. The conference is the world's largest meeting dedicated to lung cancer and other thoracic malignancies, attracting more than 6,000 researchers, physicians and specialists from nearly 100 countries.
"We all share one goal: conquering lung and thoracic cancers worldwide, and this conference helps bring that closer to reality. Lung cancer accounts for nearly a third of all cancer deaths around the globe. That is more than breast, prostate and colon cancers combined," said Dr. Fred R. Hirsch, CEO of the IASLC, Professor of Medicine and Pathology at the University of Colorado and Congress President. "This meeting represents our unprecedented collaboration and advanced science in the urgent fight against lung cancer."
The conference covered a wide range of disciplines, including more than 300 invited talks and 3,000 formal research studies and clinical trial results. Every presentation aims to increase awareness and collaboration so surgeons, medical oncologists, radiation oncologists, pulmonologists, radiologists, pathologists, epidemiologists, basic research scientists, nurses, allied health professionals, advocates, caregivers and patients understand the latest developments and can implement them throughout the world.
For the first time, this year's conference included lung cancer patients, survivors and caregivers. One presenter, Janet Freeman-Daily, is a patient advocate who uses her own successful battle against lung cancer to help others. She discussed lung cancer's "image problem," pointing out that an increasing number of patients are never smokers like herself.
"From patient perspectives to basic science to molecular targeted therapies, the array of scientific discovery shared in Denver was remarkable," Dr. Hirsch said. "We look forward to continuing our efforts at the 17th WCLC in Vienna, Austria in December 2016."
New Tobacco Control and Smoking Cessation Statement
Given that smoking is associated with 80 percent of lung cancer cases, this week the IASLC issued a new statement on Tobacco Control and Smoking Cessation that calls for higher taxes on tobacco products, comprehensive advertising and promotion bans and product regulation, including pack warnings.
"Tax policies that increase the cost of cigarettes play a prominent role in the reduction of cigarette smoking," said Dr. Kenneth Michael Cummings, Professor, Hollings Cancer Center, Medical University of South Carolina and Chair of IASLC's Tobacco Control and Smoking Cessation Committee.
Cummings showed that doubling the inflation-adjusted price of cigarettes could result in a 33 percent reduction in smoking. Many low- and middle-income countries can accomplish this by tripling the specific excise tax on tobacco. With a low-specific excise tax, cigarettes are about 70 percent cheaper in many low-income countries compared with high-income countries.
Click here to read the IASLC's entire policy statement.
Advanced Treatment and Prognosis Data Available for TNM Classification of Lung Cancer
The Eighth Edition of the Tumor, Node and Metastasis (TNM) Classification of Lung Cancer will provide physicians around the world access to new data to more precisely stage and treat cases of lung cancer.
The new database consists of 94,708 patients diagnosed around the world from 1999-2010. The objective is to further explore and analyze the impact on prognosis of tumor size and of the different T descriptors; the prognostic significance of tumor burden in hilar and mediastinal lymph nodes; and the confirmation of the revised M1 categories (M1a and M1b) of the seventh edition of the classification along with the prognostic impact of number and anatomic location of metastases.
"The new database is much richer in details that allows refinements in the analyses of the different descriptors," said Dr. Ramon Rami-Porta, Thoracic Surgery Service, Hospital Universitari Mutua Terrassa, Barcelona, Spain.
New WHO Tool Assists in Accurate Classification of Tumors
The WHO Classification of Tumours of the Lung, Pleura, Thymus and Heart (Fourth edition), is now available online at http://whobluebooks.iarc.fr/ or http://www.who.int/bookorders/.
"WHO Classifications represent a pathologic and genetic classification and grading of tumors designed to be accepted and used worldwide. They provide standard criteria for pathologic diagnosis, clinical practice, cancer registration, epidemiologic studies, clinical trials and cancer research," said William D. Travis, M.D., attending thoracic pathologist, Department of Pathology, at Memorial Sloan Kettering Cancer Center in New York City.
The 2015 WHO Classification of Lung Tumors captures a decade of remarkable advances in all lung cancer specialties including: pathology (histology, cytology, immunohistochemistry, molecular testing), clinical, epidemiology, radiology and genetics. The rapid expansion of molecular and immunohistochemical tools provide a strong foundation for the classification and a rationale for reclassification of specific entities.
About the WCLC:
For more information on the 2015 WCLC, visit: http://wclc2015.iaslc.org/.
About the IASLC:
The International Association for the Study of Lung Cancer (IASLC) is the only global organization specifically dedicated to the study of lung cancer. For more information, visit: https://www.iaslc.org/.
###