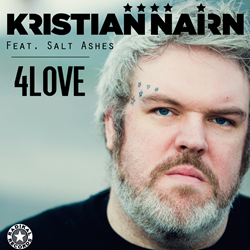 New York, NY (PRWEB) September 11, 2015
Today, Kristian Nairn is unveiling his follow up single entitled "4Love" featuring the vocals of emerging electronic artist and Radikal Records label mate Salt Ashes. "4Love" is reminiscent of 90's house music with its heavy synths and upbeat piano melody. The new Single comes with progressive house remixes from remixers MARAUD3R, Tonekind, and KC Anderson.
Excited to share his second solo release, "4Love," with the world Nairn says, "This is my second solo release. This time I had the privilege to work with the wonderful Salt Ashes. I absolutely love the tone of her voice and I think it adds a very special edge to the track. Writing with Salt Ashes was such an effortless process because she has such a great feel for this type of track. We already have three great remixes and a few more coming."
Kristian Nairn will bring his live DJ set to New York City's Hard Rock Café in Times Square on October 9th to kick off New York's Comic Con. To purchase tickets or for more information visit, http://www.newyorksuperweek.com
"4Love (feat. Salt Ashes)" is available for digital purchase and streaming worldwide. Stream Nairn's new single on Spotify, Beatport, and Bandcamp. Purchase "4Love (feat. Salt Ashes)" on iTunes.
Track listing:
1. 4LOVE (feat. Salt Ashes)
2. 4LOVE (feat. Salt Ashes (MARAUD3R Remix)
3. 4LOVE (feat. Salt Ashes) (Tonekind Remix)
4. 4LOVE (feat. Salt Ashes) (KC Anderson Remix)
5. 4LOVE (feat. Salt Ashes) (Single Edit)
For more information and to listen visit: http://www.radikal.com
Nairn rose to international fame for his portrayal of Hodor on HBO's hit series Game of Thrones. However, Nairn is also an accomplished musician and has been a professional DJ for almost two decades, holding down a residency at Kremlin, one of Northern Ireland's most popular and enduring venues, for most of that time. He recently made his debut as a recording artist on Radikal Records with the release of his highly successful debut single "Up/Beacon (featuring Leanne Robinson)," which received rave reviews worldwide.
Stay connected with Kristian Nairn on Facebook, Twitter, and Instagram
###
About Radikal Records:
Established in 1990, and based just outside of NYC, Radikal Records is one of the United States' leading independent record labels. In business for more than 25 years, they are focused on marketing, promoting, and distributing artists – not only to audiences in the USA, but also on a global basis to partners world-wide. Artists included on their roster over the years include: Kristian Nairn, Salt Ashes, Tony Moran, Ayah Marar, DJs From Mars, 2 Unlimited, N-Trance, Zombie Nation, ATB, Yello, Scooter, Schiller, Blank & Jones, Cosmic Gate, Sinead O'Connor, and many others. For more information visit: http://www.radikal.com