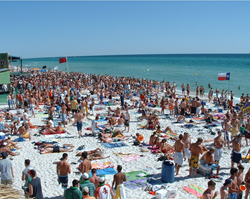 Panama City Beach remains the biggest and best go-to destination for college Spring Break!
Panama City Beach, FL (PRWEB) September 15, 2015
College students nation-wide are now back at school for the fall semester and the question of 'where do we go for Spring Break 2016?' is about to become a highly debatable discussion topic.
In hot anticipation of destination packages being booked, Panama City Beach's local business owners have teamed up with marketing and promotion agency CMG Media to assure students that they intend on having Panama City Beach remain as the "Spring Break Capital of the World" in 2016.
"We want to send a very positive message out to students this year, and that is that we will remain the biggest and best go-to destination for college Spring Break," said Carm Giardina, a representative of CMG Media, the firm responsible for a significant portion of spring break marketing and promotions.
Speaking on behalf of many of Panama City Beach's local business owners, including hotels and condos, restaurants, bars, and night clubs, Giardina underlines the fact that "we are all united in our effort to provide students with a fun, safe and memorable Spring Break 2016 experience."
"We understand that some students may think that Panama City Beach isn't interested in having Spring Break anymore," continued Giardina. "We can assure you that this is not the case."
-Accessibility – whether you're driving or flying, Panama City Beach is very accessible from most major markets.
-Affordability – Panama City Beach has always been the budget friendly destination. There are virtually hundreds of hotels and condos that offer rooms priced to fit every student travelers budget.
-The Best Nightlife – Panama City Beach is able to proudly boast that they have some of the best nightlife in the world courtesy of famous, massive sized venues including Club Lavela, Spinnaker Beach Club, Sharky's Beach Club, Harpoon Harry's, Hammerhead Fred's, Coyote Ugly and The Sandpiper Beacon's Tiki Bar. All these clubs are 18 to enter. Don't forget to get your Panamaniac Card!
-The Biggest Daytime Beach Event – Now over 20 years in existence, the Beach Bash Music Fest is Spring Break's number one daytime beach event. The 2016 edition promises to be the biggest yet, and will feature top national performing acts in both the country music and EDM genres over a two day period. Stay tuned for more updates regarding this huge event.
-27 miles of the best, white sandy beaches in the world, combined with beautiful emerald green water from the Gulf Of Mexico.
Hotels are currently booking rooms at early-bird discounted rates, allowing students to save even more if they book their rooms well in advance of the peak booking time.
For more information on hotels and bookings, plus all other Spring Break destination info, visit the number one Spring Break website at http://www.pcbeachspringbreak.com.