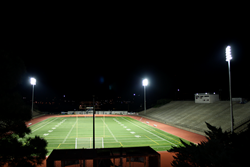 "The lumen output is outstanding, while also meeting the needs of the city to keep light directed on the field, not in neighborhoods. It's a win/win for everyone!" ~ Ron Guarienti, Pueblo Electric
Hillsdale, MI (PRWEB) September 10, 2015
Qualite Sports Lighting has been a sports lighting leader for 30 years, while Dutch Clark Stadium, in Pueblo, Colorado was built in 1950! Dutch Clark Stadium, named for an inaugural member of the Pro Football Hall of Fame, and home to Pueblo City School District, has hosted high-profile events for over 50 years. With its current capacity of 13,000 seats, other upgrades to the stadium included the new lighting system, electrical system, scoreboard and sound system.
Qualite's Q-LED System reduced the number of fixtures, ultimately improving energy consumption, with the installation of 120 pre-aimed, pre-wired fixtures, each fixture with 115,000 lumens. Roman Slaybaugh, Qualite Sales Manager, Mountain Region, states "We have upgraded the field to a minimum 75FC, with an actual average of 111FC at 100% dimming capabilities. One of the coaches told us it is like "daylight at night"! Qualite is excited to be a part of this important project for the community and the state, as this is Colorado's first outdoor high school sports field with an LED installation".
Ron Guarienti, Owner of Pueblo Electric, the electrical contractor for the project commented, "We were proud to work with Qualite to install their Q-LED System at Dutch Clark Stadium. The lumen output is outstanding, while also meeting the needs of the city to keep light directed on the field, not in neighborhoods! It's a win/ win for everyone!"
Qualite Sports Lighting – The New Generation of Sports Lighting
Qualite has been the Sports Lighting Partner for High Schools, Colleges, Parks and Recreational Departments, and Minor and Major League Professional Sports Franchises for 30 years. In addition, Qualite has partnered with Ephesus Lighting to provide the highest quality LED technology systems for sports facilities, including the host stadium to the 2015 Super Bowl, as well as High School, College and Park & Rec Fields across the US. Qualite's Q-LED System is the most Energy-Efficient, Highest Lumen Output LED Lighting Solution in the Sports Lighting Industry.