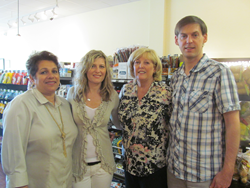 When I first opened the store, I knew that the core focus of the store was about prevention and assisting customers to regain their health. I am proud that through the years that vision still holds true and continues to evolve
Orland Park (PRWEB) September 11, 2015
Founding owner of New Vitality Health Foods, Inc., Barbara Griffin, NMD, CNC, and Certified Gluten Practitioner began, "It is surreal that New Vitality Health Foods, Inc. is celebrating its 27th Anniversary. When I first opened the store, I knew that the core focus of the store was about prevention and assisting customers to regain their health. I am proud that through the years that vision still holds true and continues to evolve."
Located in Orland Park's new Orland Crossing Center, New Vitality Health Foods, Inc. is home to the newest and widest selection of allergy free food, beauty and house hold products. As a result of the over 42 years of experience in the health field, the New Vitality team is able to provide the customer with educated and sound nutritional advice. Only the highest quality vitamins, nutritional supplements, homeopathics and herbs fill New Vitality Health Foods, Inc.'s shelves.
"Knowledge is the key to making healthy informed decisions. New Vitality Health Foods, Inc.'s goal is to provide customers with the resources and tools they need in order to grow one step closer to reaching their optimal health," remarked store manager Diana Sourek, MS, CNC, and Certified Gluten Practitioner.
"We live in an informational age. Through the media, webinars and various health sites found on the Internet, consumers are flooded with information on how to improve their health. Our team is comprised of Certified Nutritional Consultants and Certified Gluten Practitioners, as a result we can assist the customer interpret health findings, steer them in the right direction and help them select the appropriate nutritional supplement that best meets their individual health needs," remarked Ms. Sourek.
Earlier this year, New Vitality Health Foods, Inc. formed The Celiac/Gluten Intolerance Support Group with the goal of assisting those living with, or the parent of a child with celiac disease or gluten intolerance navigate their new world. Each month different discussion topics such as, recovery treatments, gluten related disorders, how to shop, how to eat out, parenting a celiac child/teenager, travel, weight issues are addressed. The Celiac/Gluten Intolerance Support Group is free and is a testament of how New Vitality Health Foods, Inc. continues to serve as a resource center to the communities it serves. The next meeting will be held on Wednesday, September 23, 2015 from 7:30 p.m. – 8:30p.m. at New Vitality Health Foods, Inc.
Assistant Manager Florine Sonneveld, who possesses over 10 years assisting customers at New Vitality Health Foods, Inc. shared, "Many of our customers today are our store's original customers. In today's competitive market that is almost unheard of. I believe that it is a testament to the personalized and superior service we provide our customers."
About New Vitality Health Foods, Inc.:
Established in 1988, New Vitality Health Foods, Inc. provides Chicagolands' largest selection of allergy-free foods that have met their high standards for taste, quality, and nutrition. New allergy-free foods are introduced weekly. New Vitality features only the highest quality, effective nutritional supplements to support their customers' total health. They also carry frozen foods, vitamins, herbs, homeopathic, aromatherapy, body care, pet care, household items and much more. New Vitality Health Foods, Inc. is located at Orland Park Crossing, 14225 S. 95th Avenue Suite 410, Orland Park IL, 60462. (708) 403-0120 http://www.newvitalityhealthfoods.com