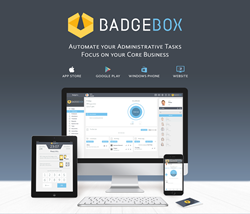 One tap away from the office
(PRWEB) September 30, 2015
While smartphones and social media have saturated every aspect of people's lives, there is still a demand for apps that make business flow seamlessly into social life. With BadgeBox, clients can now access the workplace via their mobile device to increase productivity and company performance both at home and in the workplace.
The cross-platform app, designed and developed by the start-up company itself, simplifies business processes by combining the company's needs with an easy-to-use interface for its employees. Through the use of mobile time cards, digital cost and revenue tracking, and invoice accounting management all with the swipe of a screen, the app serves as an easy and approachable communication tool. The app encourages interaction between employees and management on a daily basis allowing employees to become more prone to using digitized forms and file sharing.
BadgeBox is also, however, more than that. Offering a simplified view of complex business operations for the new digital world, the app utilizes a Cloud-based system that dematerializes data making it accessible in any place, on any device and at any time. BadgeBox allows users to monitor and manage their workplace in real time using human resources and project teams to generate payroll and timesheets with simplicity. With just a click or swipe, it is possible for employees to control their status, request vacation time, expense claims, and keep direct contact with HR. Thanks to the GPS and NCF functions, BadgeBox makes clocking in and out with a smartphone easy for the employees while facilitating attendance data for employers.
BadgeBox simplifies accounting and human resource management for employers as well thanks to its intuitive interface that guides them through all phases of the process step by step.
Some of BadgeBox's first partners include a major Italian telecommunication company and a charity that funds scientific research on rare genetic diseases. These two companies have recently chosen BadgeBox as a new platform for dialogue with their employees.
For more information, visit their website at: https://www.badgebox.com/