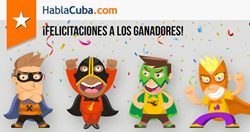 Atlanta, Georgia (PRWEB) September 13, 2015
There are so many jokes about the Cuban dads! They say: "He let you know you could be whatever you wanted to be in life… as long as it was preceded by Dr. and followed by Esq.". Or: "He will certainly allow you to date when you're old enough. Like 78?" In order to find out what is true and what is not, HablaCuba.com launched a Facebook quiz, challenging its customers to answer some questions about their SuperDads. At the end of the quiz, they would find out what kind of Superhero their dad is.
The quiz results, gathering about 300 answers showed that:

34% of Cuban fathers are Sir helicopters
27% of Cuban fathers are Fixo dads
20% of them are Joking gurus
19% of them are Buddy buddy dads
To find out more about Cuban fathers' particularities, here is a more detailed description of each Superhero:
Sir Helicopter
Helicopter dads worry about… pretty much anything. Their children haven't called? What happened, why haven't they called? They call...why are they calling? Is the house on fire? Did they kill the neighbor's cat? If so, did the neighbor catch them? Although they are constantly hovering, they come in peace. If they still need to know all the details of their children's life, although they just had your retirement party. The helicopter Superhero is always flying over the Cuckoo's Nest to protect it.
Joking Guru
Because of him, Colombian kids grew up knowing that the sun always comes after the rain. His kid's ears were too big? He would say wings come in different shapes and the world needs more good listeners :)
The kid would complain he or she is so slow that they need a 'brain camp'? Joking guru dad would say: You're a genius, you've just invented a new concept "brain camp". What makes dad a Joking-Guru is his eye for the fresh and minty part of life.
Fixo dad
The door won't close? He'll fix it. The car won't start? He'll fix it. The brain won't work? The synapses just need some lubricant, just like the car. Broken heart? He'd fix that too if he could. He is a rebel soul in a nice shoe box with a screw and a hammer. Remember when the planet could only hold one person? He was behind it.
Buddy buddy dad
He was always his kid's number one fan and life-time supporter, but most importantly, his first best friend. When the room was a mess, there was no need to worry, if the kid could still find clean socks. The grades weren't that high? He made it clear that there's plenty of time to discover the true calling. When talking to him, his face is like Oprah Winfrey on the cover of the magazine… omniscient & empathic.
The aim of this quiz was to bring Cuban families closer together, no matter the country they currently live in. This is also the mission of all services offered by HablaCuba.com to Cuban expats: international calls and top ups.
The rate for calling the family and friends still living in the Cuba is 69.9¢/min, both for landlines and mobiles. Beside Voice Credit, HablaCuba.com also offers mobile recharges, a service through which customers can recharge any Cubacel mobile. The process is fast and secure and the credit reaches its destination instantly.
HablaCuba.com is available both in English, Spanish, French and Italian, so customers can navigate using the language that is more familiar to them. Within the same purpose of finding easily the information needed, the website also offers 24/7 Customer Support, that may be contacted by email or phone.
About HablaCuba.com
HablaCuba.com is an interactive website designed by KeepCalling, a global telecommunications company registered in 2002 in USA. Presently, KeepCalling provides its services to hundreds of thousands of consumers and businesses, with a focus on customer satisfaction. KeepCalling has been listed by Inc 5000 as one of the fastest growing companies in the USA for 5 consecutive years. In 2015 the company registered a revenue increase of over 200% from 2011 to 2014.