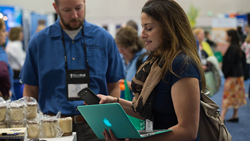 "The app was pure engagement because we believe in apps that are more than digital agendas or brochure replacements" - Diana Kayser, Project Manager, SpotMe
Chicago, Il (PRWEB) September 16, 2015
The CleanMed 2015 Mobile Application was recognized with the Best in Show 2015 award in the category of Mobile Applications for a Convention and Meeting by the PCMA (Professional Convention Management Association), the leading organization for meeting and event professionals.
The app is powered by the SpotMe Event Platform and boosted engagement with innovative tools. It featured an expo "treasure hunt" that rewarded attendees for traversing the show floor and connecting with exhibitors. The app also simplified CEU certification — when attendees at qualifying sessions entered a PIN in their apps it automatically generated a survey and sent out a CEU certification on completion. Additionally, the app feature visually-weighted polling with "word clouds" and all the nuts-and-bolts of conference apps: agendas, schedules, speakers, attendees and sponsors.
"The app was pure engagement." -Carrie Abernathy, CMP, CEM, CSEP, director of education and events, Practice Greenhealth (conference organizer)
As the CleanMed conference is an annual forum where health-care administrators, clinicians, medical researchers, building designers, and product vendors gather to share information and learn about best practices for creating environmental sustainability in the medical sector, it was also important that the mobile event app allowed the event to be virtually paper-free.
"We believe in event apps that are more than digital agendas or brochure replacements—fortunately clients like Practice Greenhealth share that vision." -Diana Kayser, Project Manager, SpotMe
The CleanMed App will return for the 2016 with even more engagement and deep social media integration.
---
CleanMed's mission is to accelerate the health care sector's commitment to environmental sustainability and regenerative health to improve the health of people and the environment. It is the premier national environmental conference for leaders in health care sustainability who are on the leading edge of greening the health care sector. CleanMed is presented each year by Practice Greenhealth, the leading membership association for hospitals and businesses engaged in sustainable health care, and Health Care Without Harm, the campaign for environmentally responsible health care and advocate for environmental health and justice across the globe.
cleanmed.org
http://www.practicegreenhealth.org
SpotMe was founded with the vision of transforming meetings and inspiring participants. SpotMe uses mobile technology to spark new ideas, kickstart networking, build teams, drive strategy rollouts and transform education.
http://www.spotme.com