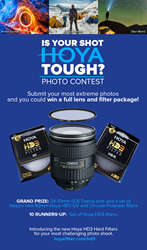 Enter your best extreme photo for a chance to win a Tokina lens and Hoya's exciting new HD3 UV and Circular Polarizer filters.
Huntington Beach, CA (PRWEB) September 14, 2015
"Is your shot Hoya tough?" That's what Kenko Tokina USA, Inc. aims to find out with their recently launched Hoya HD3 Filter Facebook photo contest. From now through November 1st, 2015, the "Is Your Shot Hoya Tough?" Contest invites professional photographers and enthusiasts alike to submit their action/adventure and nature shots for a chance to win a grand prize package that includes a 24-70mm f2.8 Tokina lens and a set of Hoya's new 82mm Hoya HD3 UV and Circular Polarizer filters. Additionally, 10 runners-up will each be rewarded with a set of Hoya HD3 filters.
Contestants enter by going to the Kenko Tokina Facebook page at https://www.facebook.com/kenkotokinausa/app_451684954848385. Kenko Tokina is inviting contestants to like their page and fill out the entry form, then upload their wholly original action or nature shot that embodies a spirit of toughness that has become synonymous with Hoya filters. Participants and non-participants will be encouraged to vote on their choice for the most "extreme" nature photo. Winners will be judged by the Sponsor based on creativity, originality, and relevance to the contest theme.
The contest coincides with the recent launch of the new Hoya HD3 series of professional photographic filters. The HD3 UV and Circular Polarizer filters give photographers the ability to capture high-quality images in extreme settings without loss of color balance, contrast, or clarity due to adverse environmental conditions. Additionally, the new filters' light-weight and rugged design means no scratches, stains or damage to the front of the lens. The Hoya HD3 filters are 4X stronger than standard optical glass and the antireflective coatings are 800% harder than previous generations while offering a stunning 99.7% light transmission rate. To learn more about Hoya's HD3 UV and Circular Polarizer filters, visit http://www.HoyaFilter.com/HD3
About Kenko Tokina USA, Inc.
Kenko Tokina USA, Inc. is the U.S. distributor for Tokina lenses, Hoya filters, Kenko photo accessories, and SLIK camera support systems. Kenko Tokina USA provides marketing, sales, distribution, and technical/consumer service and support. Kenko Tokina USA is located in Huntington Beach, CA and on the Web at http://www.kenkotokinausa.com.