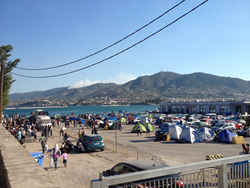 The influx of survivors crossing into Europe is staggering.
Sarasota, FL (PRWEB) September 12, 2015
International humanitarian relief organization, ShelterBox USA, has been recognized by multiple sources as one of the top providers of emergency aid to the refugees affected by the ongoing conflict in Syria and surrounding countries.
Domestic and international sources Public Radio International http://bit.ly/1UqCtHd, Charity Navigator http://bit.ly/1QoDLN5, and Reuters tmsnrt.rs/1OaWLj2, have each listed ShelterBox as one of the organizations doing critical work to aid the families affected. So far, ShelterBox has sent aid to support over 5,000 families in Syria, Iraqi Kurdistan, Lebanon and Jordan.
"Our teams have been active both near Syria and in the Greek isles assisting refugees in their time of need," said Alan Monroe, Interim Executive Director of ShelterBox USA. "The influx of survivors crossing into Europe is staggering and we are working diligently to provide many with the means to shelter their family during their harrowing journeys."
"In Lesbos, which is currently receiving the highest numbers of all the Greek islands, 80,000 arrivals are expected each month through October," said Jennifer Butte-Dahl, a former U.S. State Department official who just returned from deployment as a ShelterBox responder. "That is between 2,000-3,000 new arrivals each day. These numbers are unprecedented. Local and international responders are in triage mode as the system and facilities in place for the last few years, when numbers were as low as 100 per month, are crumbling under the pressure."
ShelterBox is currently responding to the refugee crisis in Syria, Iraq & Greece. Other responses include the earthquakes and landslides in Nepal as well as conflict in Cameroon and Niger. For the latest on these and other ShelterBox deployments, visit http://www.shelterboxusa.org.
###
About ShelterBox USA
Since 2000, ShelterBox has provided shelter, warmth and dignity following more than 250 disasters in over 90 countries. ShelterBox instantly responds to earthquake, volcano, flood, hurricane, cyclone, tsunami or conflict by delivering boxes of aid and other supplies. Each iconic green ShelterBox contains a disaster relief tent for an extended family, stove, blankets and water filtration system, among other tools for survival. ShelterBox's American affiliate, ShelterBox USA, is headquartered in Sarasota, Florida. ShelterBox is a proud Project Partner of Rotary International. Tax-deductible donations to ShelterBox USA can be made at http://www.shelterboxusa.org or 941-907-6036.