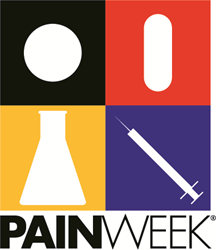 PAINWeek has exceeded its own expectations
(PRWEB) September 13, 2015
PAINWeek 2015 delivered—the palpable excitement and camaraderie was evident as over 2300 attendees were exposed to over 120 hours of CE/CME and a host of satellite events. Throughout the halls of The Cosmopolitan of Las Vegas this week, up-to-the-minute medical information and personal experiences were shared, in the many standing room only conference rooms, in the halls, at the coffee kiosks, in the Exhibit Hall.
For 9 consecutive years, since its inception, PAINWeek has exceeded its own expectations—in attendance, courses, the Exhibit Hall, and commercially supported programs. This year was the best ever. At the end of the conference, attendees will return to their home cities, armed with more knowledge and ideas to share with coworkers, patients, caregivers, and family members.
The week started on Monday evening with PAINWeek 101 to help "first-timers" chart their PW course. On Wednesday night, the Keynote address brought attendees together to enjoy the wit and wisdom of Drs. Michael Clark and Kevin Zacharoff. Awards were presented to Kelvin Burton, MD (PAINWeek Practitioner of the Year, sponsored by Teva), Tanya Uritsky, PharmD, BCPS (Pain & Palliative Care Practitioner of the Year, sponsored by Xpress Laboratories), and the U.S. Pain Foundation President and Founder, Paul Gileno (bestowed by the American Society of Pain Educator of the Year). The scientific poster session boasted over 120 posters!
The Keynote address was delivered by Charles E. Argoff, MD. In his talk, entitled Pastrami or Prescriptions? The Deli Can Wait… Dr. Argoff listed the top 10 reasons he isn't pursuing his alternate dream career, running a Brooklyn-style deli in rural Vermont. Confronted with too many people in pain, a dearth of trained pain practitioners, and obstructive managed care coverage policies, his deli management career will have to wait.
At the Welcome Reception following the Keynote, attendees, faculty, and other pain stakeholders networked and perused over 110 exhibits in the Exhibit Hall and its two overflow annexes. The hall featured everything from the most prominent professional and patient advocacy organizations, to the latest pharmaceuticals to massage chairs to analgesic cream to pain coping mechanisms.
Sponsored programs presented by AstraZeneca, Cara Therapeutics, Depomed, Indivior, Iroko, kaléo, Pernix, Purdue Pharma, Salix, and Teva Pharmaceuticals, introduced attendees to the latest medical information.
As Dr. Zacharoff has said, "Chronic pain patients are on the doorstep of every healthcare provider on Main Street USA." After PAINWeek 2015, practitioners should be better able to help those patients.