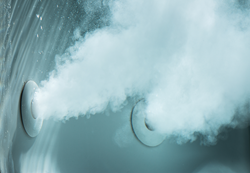 Perrysville, Ohio (PRWEB) September 16, 2015
Mansfield Plumbing has introduced a new generation of bathing experiences for tension-riddled people. The new MicroDerm Therapeutic Bath silently infuses bathwater with millions of microbubbles to help a bather relax, unwind and feel rejuvenated.
"The widespread appeal of the effervescent MicroDerm comes from both the relaxing warm water experience that helps soften the skin and the resulting clean, exfoliated skin," says Haley Davis, product manager for Mansfield Plumbing."This bathing encounter is completely unique. I was personally amazed when I tried it ... the tiny oxygen-rich bubbles burst quietly on the skin to help clean and hydrate while exfoliating the skin's outermost layer."
Available now from Mansfield Plumbing in the company's Swirl-way® product line in 25 models with tub unit sizes of 60" x 32" to 72" x 42", the MicroDerm comes in rectangular, oval and corner shapes. There are 25 different tubs, including both one- and two-person versions. Tub colors include white, bone, biscuit, almond, black, ice gray and British khaki. Trim finishes are available in white, bone, biscuit and polished chrome.
In-Home Spa Treatment
The MicroDerm provides a stimulating bath that makes skin feel softer and more energized. Liquid film technology super-saturates the bath with up to 50 percent more dissolved oxygen molecules than in regular bath water to gently stimulate and soften skin.
"Just trying this bathing experience once totally hooks a person," says Davis. "It's incredible how clean and soft this bath leaves the skin.
"Independent testing has been done and the results are impressive. One hundred percent of test participants with the MicroDerm demonstrated improved hydration and moisture content in the upper layer of the skin after a ten-minute immersion."
In addition to relaxing, exfoliating and cleaning the skin, the MicroDerm also helps keep bath water warm longer. As microbubbles burst against submerged skin, heat is released to invigorate the skin surface and warms the water, increasing the temperature while eliminating the need to add hot water to the bath.
"Having the MicroDerm is equivalent to an in-home spa treatment for your skin," says Davis. "This is a product that will set builders apart in their marketplace and transform a bathing experience for homeowners."
Mansfield Plumbing precision manufactures millions of pieces of sanitaryware and bathware each year at its facilities in Perrysville and Big Prairie, Ohio and in Henderson, Texas. Founded in 1929, Mansfield Plumbing, which is owned by Corona, is a leading producer of top-quality, high-design, performance plumbing fixtures and fittings for use in residential, commercial and institutional markets. For more information, visit http://www.mansfieldplumbing.com or call 877-850-3060.
###