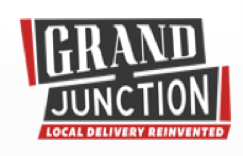 SAN FRANCISCO, CA (PRWEB) September 15, 2015
Grand Junction Inc., the only comprehensive technology platform for offering and managing same-day and local delivery across North America, today announced that Grimco Inc., the leading national sign supply wholesaler, has selected Grand Junction Inc. to manage its same-day and next-day delivery network, spanning more than 40 markets.
Grimco Inc. supplies anything and everything sign related—from inks and base layers, to traffic signs and equipment from Hewlett-Packard and 3M—across the United States and Canada. In an industry where selection and price are as important as speed from order to delivery, Grimco found that to cost effectively offer nationwide same-day on-demand, AM/PM (i.e., order early and receive by close-of-business), and next-day service, it required its fleet to be augmented, and in most markets replaced, by courier companies.
"Because each market worked with a different courier, we found that each one was offering a slightly different version of what we considered our standard service levels – rates were often radically different, and quality metrics were defined differently," said Kevin Howser, Executive Vice President of Operations, Grimco Inc.. "And, because we lacked software to centralize our operations and coordinate, there were many manual processes involved. Grand Junction gives us real-time visibility and control across our local delivery operations—both our courier network and our in-house fleet—allowing us to reduce costs, better scale our business, and, most importantly, offer a far better customer experience."
Filling in the critical gaps of transportation management software (TMS) when it comes to same-day and local delivery, Grand Junction brings together corporate logistics, customer service and finance teams, stores/branches, carriers, and drivers on a single cloud-based platform. From mobile apps that provide visibility throughout a driver's daily deliveries, to automated post-delivery customer surveys, to alerts about potentially late deliveries, to automated invoice auditing, Grand Junction gives shippers all of the tools they need to manage a multi-market, high-quality delivery operation. Grand Junction also gives shippers access to the more than 700 couriers on its platform, which Grimco readily took advantage of when looking to upgrade and expand parts of its delivery network.
Rob Howard, CEO of Grand Junction, said, "No company offering same-day or local delivery—even a Fortune 500 company—is able to provide the UPS and FedEx-like experience that businesses and consumers are accustomed to. Grand Junction gives shippers all of the tools they need to provide a comparable customer experience while controlling costs. We are excited to partner with Grimco and look forward to helping them achieve the same results that our wholesale healthcare, industrial supply, office products, and foodservice customers already enjoy."
For more information on Grand Junction, please visit grandjunctioninc.com. To learn more about local delivery, including the latest news and trends, through the eyes of 15-year industry veteran Rob Howard, follow the blog at grandjunctioninc.com/blog/.
About Grand Junction
With more than 100,000 daily deliveries, Grand Junction is the only platform for offering and managing same-day and local delivery in every market in North America. Grand Junction allows leading retailers, distributors, and 3PLs to offer delivery through its comprehensive technology platform and network of more than 700 local carriers. With Grand Junction, shippers have real-time visibility and control over their spend and customer experience, and can customize the services they offer, choosing from on-demand, same-day AM/PM, scheduled, and two-person delivery.
About Grimco
Grimco, Inc. is a leader in the national wholesale sign supply market. Grimco's product offering includes sign and graphic supplies, equipment and traffic products distributed through an ever-growing network of locations across the United States and Canada.
For further information call Grimco at 800.542.9941 or visit http://www.grimco.com.