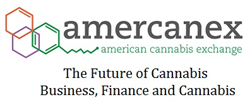 We are extremely proud to have Gordon and Jim, join the Amercanex team, their wealth of experience and industry knowledge have already made them key additions to our commitment and vision to being industry leaders in the Cannabis space, Steve Janjic - CEO
Denver, Colorado (PRWEB) September 14, 2015
Green Tree International, Inc., the parent company of Amercanex, the American Cannabis Exchange, today announced that former Dubai Mercantile Exchange (DME) CEO Gordon Rutledge, along with fellow former NYMEX Board Member James McNally have joined their former NYMEX colleagues Richard Schaeffer and David Greenberg at Amercanex. Rutledge has become Green Tree International's newest Board of Directors member and McNally has joined Amercanex's Advisory Board. Green Tree International, Inc. is the parent company of Amercanex and the American Hemp Exchange. Like Schaeffer and Greenberg, Rutledge and McNally bring Amercanex invaluable exchange experience along with an extensive network of contacts throughout the global financial community. As the cannabis industry grows more and more corporate professionals are bringing their skills and experience to the new emerging cannabis market.
Gordon Rutledge has nearly 4 decades of experience in the financial markets. After graduating from Harvard University, Rutledge began his career as the commodity news wire editor at Merrill Lynch and later became a trader for them. Over the next 30 years Gordon became an accomplished broker/trader at NYMEX where he ran and established successful energy related businesses. After being elected to the NYMEX Board of Directors in 2000, he was selected to lead the launch effort of the Dubai Mercantile Exchange in 2005 as its first CEO. He then served as Senior Advisor to the NYMEX Chair and management team until its launch in 2007. A start-up business consultant, Gordon has been active in the medical cannabis cultivation space in Oregon since 2012.
"I'm very excited to join the talented Amercanex team in helping to bring price transparency and accountability to one of the world's most valuable cash crops," said Rutledge.
James McNally has been a member of the Hong Kong futures exchange, NYMEX and COMEX. In 1996, McNally began his career in Hong Kong managing derivatives on the Hang Seng, and later returned to the states where he became a member of the NYMEX and COMEX. Jim went on to build out a very successful gold and energy derivative operation over the next 18 years.
"I was fortunate to be a part of the infancy of the natural gas and deregulation of electricity, which makes me very excited to now be a part of this upcoming emerging market of Cannabis", said McNally. "My experience on the NYMEX, along with the innovation that the team at Amercanex has brought to this space, makes a great marriage for opportunity."
"We are extremely proud to have Gordon and Jim, as well as their fellow colleague's join the Amercanex team" said Steve Janjic, CEO of Amercanex. "Their wealth of experience and industry knowledge have already made them both key additions to our commitment and vision to being industry leaders in the Cannabis space".
About Amercanex
The ACE Marketplace offered by Amercanex (American Cannabis Exchange), is the web-based user-interface to the Electronic Cannabis Marketplace (ECM), offering a comprehensive suite of tools and solutions tailored to address a diverse client base. The proprietary platform ensures that only product, quantity, quality and best-available pricing are shown, thus ensuring a completely transparent, neutral and non-manipulated free-market where supply and demand are the key factors affecting price discovery. To learn more about Amercanex, please visit http://www.amercanex.com.
Amercanex contact:
Robert Ruiz, Chief Marketing Officer
Amercanex Inc.
720.360.1200
rruiz(at)amercanex(dot)com
Nothing above or herein constitutes investment advice or an offer, or solicitation of an offer, to buy or sell any financial product. To the maximum extent of the law, Amercanex Corporation and the ACE Marketplace accept no responsibility for any reliance placed on the contents of this document and accepts no liability for any direct, indirect or any other loss arising out of any use of the information contained in this document or any omission from it. The ACE Marketplace is not available to non-licensed/ authorized participants. It is not intended for distribution to, or use by any, person or entity in any jurisdiction or country where such distribution or use would be contrary to any applicable law or regulation.