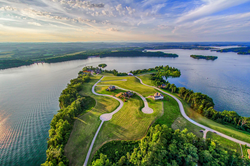 Lakeway to the Smokies
Knoxville, Tennessee (PRWEB) September 16, 2015
Real Estate Scorecard is thrilled to see new things happening at WindRiver Golf Club, one of Eastern Tennessee's waterfront retirement communities. The 700 acre gated community introduced its newest signature neighborhood last month. The Highlands Residences are a hilltop neighborhood with stunning views of Tellico Lake. A collection of 12 homes featuring English Country architecture inspired by renowned architect Jonathan Miller. The low maintenance homes perched up on a bluff overlookTellico Lake and the new amenity campus are priced from the mid $400k's. Homes are built within a park-like setting filled with flower gardens, trees and park benches. Two great lawns extend on either side of The Park Pavilion. There are four home designs to choose from in The Highlands Collection:
Avery Hill - 2,662 square foot 3 bedrooms, 2.5 baths
Park Hill - 2,719 square foot 3 bedrooms, 2 baths w/bonus loft
Primrose Hill - 2,545 square foot 2 bedrooms, 2.5 baths
Violet Hill - 2,771 square foot 3 bedrooms, 3 baths (largest home)
As of September 2015, Real Estate Scorecard has been informed one year sales at WindRiver have hit a new record at $5.7 million with $3.1 million pending. Lake property Knoxville TN is clearly in demand as Boomers push ahead with their relocation plans. It's not surprising when you consider what waterfront retirement communities in the area have to offer. A sparkling clean lake, fabulous golf courses and the Great Smoky Mountains nearby. Unlike its competition, debt free WindRiver has an extensive luxury amenity list.
The English Country new homes with open floor plans, downstairs master bedrooms, and plenty of outdoor living space blend seamlessly into the outdoor parks overlooking Tellico Lake. The lake property Knoxville TN is set in a superb location for anyone relocating to Tennessee who desires lake living but wants to be in close proximity a decent city.
In other WindRiver news, construction is almost complete on the $4 million resort-style Signature Sports & Wellness Center. Once completed, it will offer a pool house with exercise facility, swimming pool, lighted tennis courts, basketball court, and green spaces for picnics, playing catch, or just as a place for enjoying the beautiful surroundings. The center will also have a sundeck, hot tub, steam sauna and more.
One of the most noteworthy amenities at WindRiver is Citico's Restaurant & Club, a fine dining restaurant overlooking Tellico Lake. This summer, Citico's successfully celebrated its first anniversary. Award-winning chef Robert Allen runs the classy restaurant. With its five star service and an outstanding menu that changes frequently, Citico's is unforgettable dining experience in the Knoxville area. Real Estate Scorecard know because they've dined there. Menu items include Crispy Quail Breast, Southern Natural Beef Tenderlion and an extensive wine list.
For those relocating to Tennessee searching for waterfront retirement communities, WindRiver has even more to offer. Its full service deepwater Harbor Marina has 118 boat slips. Cosmo's on the Water Bistro is planned for 2016. All in all, $1.5 million has recently been invested in the expansion and upgrades to the WindRiver Harbor Marina on Tellico Lake.
The gated community has a stunning Bob Cupp Signature Championship Golf Course. More than $1 million was invested last year in the golf course by improving bunkers, irrigation system and by adding 14 new tee boxes. Top of the Hill Grill offers casual dining adjacent to the pro shop. Family golf membership benefits include preferred tee times, social events and guest privileges.
Real Estate Scorecard believes there is no better place to find it than at Tellico Lake for buyers who love the outdoors and demand lake property Knoxville TN. With 373 miles of shoreline, it is one of the most beautiful Tennessee Lakes. Protected by the TVA (Tennessee Valley Authority), it will never experience development of a new master planned community on the lake. Tellico Lake is also one of the cleanest lakes in America and has been ranked third nationally as the Best Place to Boat in the U.S. by Boating Life Magazine. The area is close to Knoxville and minutes from two major highways, I-75 and I-50.
WindRiver is clearly committed to becoming one of the finest golf and entertainment experiences on Tellico Lake. The best way to learn about WindRiver is by seeing it for yourself, by accessing the community's Discovery Package. The $249 package includes 3 days/2 nights at the WindRiver Lakeside Inn, round of golf for two, scenic boat ride, dinner for two at Citico's and more.
Contact Karen Millikan of On the Lake Realty to check on availability by calling 423-519-3258 ext 1.
About Real Estate Scorecard:
Real Estate Scorecard writes unbiased real estate reviews providing in-depth information about popular gated communities in Florida, Georgia, the Carolinas, Tennessee and Central America, all in an effort to help people discover where to retire in the South.
Website: http://realestatescorecard.com