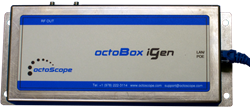 iGen supports 802.11a/b/g/n/ac with the ability to generate traffic, Bluetooth, radar and other interference.
Littleton, MA (PRWEB) September 16, 2015
octoScope®, Inc. is introducing iGen, the first compact, easy to integrate interference generator capable of generating Wi-Fi traffic and other common types of interference, enabling engineers to fine-tune performance of throughput-critical applications, such as video over Wi-Fi.
Achieving adequate throughput and an excellent customer experience can be challenging because in apartments, densely populated neighborhoods and office buildings a Wi-Fi network can be in-range of 30 or more neighboring Wi-Fi networks interfering with one another. This combined with transmissions from Bluetooth devices, baby monitors and other interferers creates a need for Wi-Fi networks to automatically select a channel with the least harmful interference. With octoScope's iGen, operators deploying Wi-Fi services can create important test scenarios to validate and optimize channel selection and other adaptation algorithms to ensure that wireless service delivers the needed performance even under the most challenging interference conditions.
In addition to Wi-Fi traffic, iGen can generate radar signals for testing DFS functionality of Wi-Fi networks. DFS is a standard protocol requiring Wi-Fi access points to initiate a channel switch in the presence of radar signals on their channel of operation.
Craig Mathias, Principal of Farpoint Group, states that "Wireless developers and service providers benefit from a cost-effective, easy to integrate multi-channel interference generation solution for their wireless testbeds. The fact that iGen can generate both traffic and radar interference makes it a versatile and valuable solution for software quality assurance groups validating performance of interference avoidance and DFS algorithms. Wireless equipment manufacturers can more effectively optimize their complex automated channel selection algorithms with iGen. It's the ideal tool to help them do this."
iGen can replay traffic captured by common sniffers such as Wireshark or WildPackets. To test coexistence of wireless services, iGen can replay traffic with configurable settings, including frequency and width of the channel, data rate and priority. iGen supports 802.11a/b/g/n/ac and incorporates a programmable RF attenuator for precisely controlling the signal level of the interference.
"The ability of iGen to capture and replay interference using flexible configuration of traffic parameters is extremely valuable to wireless product developers. Adjacent channel interference (ACI) and co-channel interference (CCI) have profound impact on performance and reliability of wireless services and is always present in real installations. However, ACI/CCI have been difficult to replicate in laboratory wireless testbeds. With the introduction of iGen, laboratory testing is much closer to real-life," says CEO of Premier Measurement Solutions, Rajkumar Sampath.
iGen also brings specialized monitoring functionality enabling test engineers to observe behavior of complex adaptation algorithms in the presence of realistic network load and other types of interference. Wi-Fi devices must quickly adapt to challenging conditions by changing data rate, MIMO mode and channel.
The unique monitoring capability of the iGen is particularly valuable in a controlled RF testbed such as the octoBox, where wireless conditions can be varied under software control to test how well the devices adapt and perform in the presence of interference, multipath and variable signal power.
iGen was architected from ground up to be fully isolated from external interference, which enables it to function as a building block of controlled environment wireless testbeds, such as the octoBox. When testing wireless devices and their interaction in a network, isolation from random external interference is critical because interference impacts test results. The completely isolated and automated octoBox testbed, now incorporating the iGen module, provides controllable RF environment with programmable path loss, multipath and interference to help engineers get through complex and lengthy test sequences expediently and efficiently.
octoScope's President, Fanny Mlinarsky, concludes: "With the addition of the iGen module for interference generation, the wireless environment inside the octoBox can accurately replicate real-life conditions in the home, office and outdoor networks. Furthermore, the ability of the iGen to replay real-life traffic recorded in the field, creates realistic conditions for validating complex new wireless devices and systems. Optimal performance of wireless services in the field can only be achieved through methodical pre-deployment testing in the lab."
The octoBox Wireless Testbed
The octoBox wireless testbeds guarantee repeatable and consistent environment with powerful automation that eliminates human error in testing, the octoBox speeds time to market and ensures the best performance of wireless devices in the field by enabling scriptable measurements of MIMO throughput, roaming, interoperability and coexistence in the presence of realistic conditions: interference generated by the iGen module, multipath emulated by the MPE (multipath emulator) and path loss emulated by the quadAtten™ programmable attenuators.
The octoBox is being used by wireless operators, device manufacturers and chipset vendors in markets including Wi-Fi, 2G/3G/4G mobile communications, medical devices and robotics. With its complete isolation and consistent test environment in labs around the world, the octoBox solution is highly-praised by its diverse users.
About octoScope
octoScope is the leading supplier of wireless test solutions and services to companies building or deploying wireless communications devices and networks, including LTE, Wi-Fi and Bluetooth. octoScope is the market leader in accurate and repeatable automated testing solutions, and is the recipient of a National Science Foundation grant.