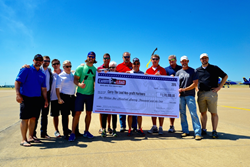 Dallas, TX (PRWEB) September 14, 2015
Carry The Load announced Saturday at the Bell Helicopter Fort Worth Alliance Air Show gifts totaling $1,170,000 in 2015 to 17 local and national non-profits who provide direct services to military, law enforcement, firefighters and rescue personnel. The donations will support each organization's mission to help military and first responders.
The Carry The Load 2015 nonprofit partners include:

Adaptive Training Foundation
Assist the Officer
Attitudes & Attire
Austin Street Shelter
Building Homes for Heroes
Center for Brain Health
Comfort Crew
Equest: Hooves for Heroes
Gratitude Initiative
Heroes on the Water
Lt. Todd W Krodle Memorial Foundation
Legacies Alive, Marine Corps – Law Enforcement Foundation
Serve Who Serve
Sons of the Flag
Snowball Express
Team RWB
Tip of the Spear
"We are proud to support these great organizations in their efforts to help Americans remember the sacrifices of our fallen service members and encourage families and friends to be triumphant in a time of need," said Stephen Holley, co-founder of Carry The Load.
Former Navy SEALs, Clint Bruce and Holley started Carry The Load out of anger and a belief that the nation did not care about the sacrifices of Veterans. The mission of Carry The Load is to restore the true meaning of Memorial Day. The organization provides an interactive way for individuals to engage and show their support to military, law enforcement, firefighters and rescue personnel.
"After 5 years, thousands of supporters and millions of dollars raised, it has become obvious that people do care," said Debbie Wright, executive director of Carry The Load. "That's why in 2016 we are expanding the National Relay to include a West Coast route in addition to the East Coast. It will all culminate in Dallas on Memorial Day."
Visit CarryTheLoad.org for information on becoming a corporate sponsor, joining the relay, making a donation, and volunteering. Follow Carry the Load on Facebook, Twitter (@CarryTheLoad) and Instagram.
About the Carry The Load
Carry The Load is a registered 501(c)(3) nonprofit organization founded in 2011 by two former Navy SEALs. Carry The Load's mission is to restore the true meaning of Memorial Day by remembering, honoring and celebrating the sacrifices made on our behalf by America's military, law enforcement, fire and rescue personnel, as well as their families. Funds raised for Carry The Load are used to further increase the number of cities participating in its Memorial May activities, and are also gifted to nonprofit partners who support and benefit America's Military, First Responders and their families. For more information, go to CarryTheLoad.org.