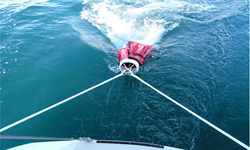 "Safety for rally participants is our number one concern, which is why it was so great to deploy this equipment to learn more...I was really amazed..."
Newport Beach, CA (PRWEB) September 15, 2015
Storm drogue manufacturer Fiorentino Para-Anchor, with assistance from the Coho Ho Ho Cruising Rally has produced a new video training program to add to Fiorentino's video library: "Storm Drogue Emergency Steering Set-ups." The new training program demonstrates two popular approaches to using a drogue for steering a disabled vessel with a damaged or lost rudder.
Storm drogues have been in the spotlight for decades as a viable option for saving lives, but until recently, there has been little attention on the secondary but equally important use as an emergency steering device. Recently though, with highly publicized accidents and stories permeating the boating community, the rush for information has lead to an overflow of misleading statements leaving boaters' with unanswered questions.
As the emergency steering drogue moves from the back seat to the front seat—Fiorentino hereby offers this updated, and readily available first-of-its kind training video with limited film editing for a more accurate "true to life feel." The lesson begins at port before going on-the-water where boaters receive clear, detailed step-by-step instructions to successfully setup, deploy and retrieve a drogue.
Boaters also learn new safety observations by comparing the behavior of two popular drogues. "My concern with some older style drogues is their vulnerability to slip under the hull near the rudder." explains Zack Smith, Shark Drogue inventor and host of the 33 minute video training program.
Doug Lombard, Co-Founder of the Coho Ho Ho Rally offered these comments: "Safety for rally participants is our number one concern, which is why it was so great to deploy this equipment to learn more, I was really amazed at how much easier the Shark was to deploy and retrieve compared to the other one and highly recommend that sailors practice using this equipment before heading offshore."
For more information:
Storm Drogue Emergency Steering Set-Ups Video
Fiorentino's YouTube Channel.
Para-Anchor.com
Photo Reference: Shark Drogue Technical Manual (published 2010 – pg.22 )
Zack Smith, a life-long sailor and sea anchor inventor, has spent most his adult life researching how parachute sea anchors and storm drogues behave in changing sea conditions. In 2004, Zack Smith worked with Fiorentino in the creation of the industry's first on-the-water training DVD program of a parachute sea anchor with step-by-step instructions, "The Complete Para-Anchor Set-up" and the updated 2012 second edition. Zack has authored several first-of-its-kind research reports for Fiorentino and is a lecturer on the USA Boat Show circuit for Storm Drogues and Para-Anchors. Fiorentino has commercially produced over ten instructional video programs for the boating community with the intent to increase a desire for Fiorentino's Para-Anchors, Shark Drogues and Accessories. Made in U.S.A.