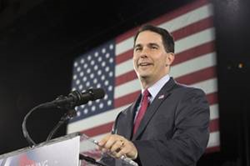 Herndon, VA (PRWEB) September 14, 2015
The Northern Virginia Technology Council (NVTC) and Consumer Electronics Association (CEA) today announced that Gov. Scott Walker of Wisconsin will speak at an NVTC/CEA 2015-16 Presidential Series breakfast on Sept. 25, 2015. Technology and innovation, and their role in spurring the nation's economic growth, will be important issues in the 2016 presidential election. In his remarks, Gov. Walker will share his proposed technology policies and discuss how he will work with the technology sector in his presidency.
NVTC and CEA have extended invitations to other potential Democrat and Republican presidential candidates to address the region's technology community as part of the Presidential Series. More events will be announced as candidates and dates are confirmed.
DATE:
Friday, Sept. 25, 2015
TIME:
7:00 a.m. — Registration and Networking
8:00 - 9:15 a.m. — Breakfast and Program
LOCATION:
Hyatt Regency Reston
1800 Presidents Street
Reston, VA
REGISTRATION:
To register as a member of the press, please contact Sarah Jones at 703-904-7878 ext. 207 or sjones(at)nvtc(dot)org.
The event is free for press, but advanced registration is required. Press credentials are required for entry.
The Northern Virginia Technology Council (NVTC) is the membership and trade association for the technology community in Northern Virginia. As the largest technology council in the nation, NVTC serves about 1,000 companies from all sectors of the technology industry, as well as service providers, universities, foreign embassies, nonprofit organizations and governmental agencies. Through its member companies, NVTC represents about 300,000 employees in the region. NVTC is recognized as the nation's leader in providing its technology community with networking and educational events; specialized services and benefits; public policy advocacy; branding of its region as a major global technology center; initiatives in targeted business sectors and in the international, entrepreneurship, workforce and education arenas; the NVTC Foundation, a 501(c)(3) nonprofit charity that supports the NVTC Veterans Employment Initiative and other priorities within Virginia's technology community; the Equal Footing Foundation, a 501(c)(3) nonprofit charity that serves local area youth; and The Entrepreneur Center @NVTC, which mentors new technology entrepreneurs. Visit NVTC at http://www.nvtc.org.