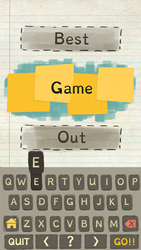 The game is building deductive reasoning skills, which are applicable across subject lines and key to college and career success later in life.
Bethesda, MD (PRWEB) September 15, 2015
Dig-It! Games, an independent developer of educational interactive games founded by a former archaeologist and middle school teacher, today released its latest game for the iPhone, I Have A Word™. Available for $0.99 and in time for the new school year, this iOS app is a brain-bending word game that requires players to use critical thinking skills to guess common words while building their vocabulary.
To play I Have A Word, learners must guess a word that corresponds to a certain number of blank spaces that represent letters. Players are told if the mystery word is alphabetically before or after the clue and must use deductive reasoning to ultimately identify the word.
"I Have A Word is similar to 20 Questions, but it focuses on vocabulary appropriate to the middle school level," said Suzi Wilczynski, founder and CEO of Dig-It! Games. "Whether players are choosing to work alone or to collaborate with peers, the game is building deductive reasoning skills, which are applicable across subject lines and key to college and career success later in life."
With more than 2,500 words stored in the game, players choose from three levels of difficulty that can challenge even the most advanced wordsmith. Learners are able to ask for hints, at a cost. The goal of the game is to achieve the lowest score—each hint or guess will increase the final tally. It all comes down to one question: how many guesses will it take you to win?
"Like all of our games, I Have A Word was a company-wide collaborative effort, but this was spearheaded by our development team in particular," said Wilczynski. "Developer Steve Hunnicutt brought the idea to our attention as he often plays a verbal version of I Have A Word with friends. Then the team brought the concept to life."
I Have A Word is the first app credited to new Dig-It! Games developer Natasha Martinez, who joined the team in July following graduation from Rochester Institute of Technology with a degree in game design and development. Martinez led the app's development from concept to release, working under the supervision of Hunnicutt and in collaboration with Dig-It! Games' art department on game design. Additionally, intern Justin Gourley, a senior at Bethesda-Chevy Chase (BCC) High School, partnered with Martinez on I Have A Word development, which gave Gourley the opportunity for hands-on learning to master coding and programming skills. Gourley will continue with the team as an intern during the 2015-2016 school year. Fellow BCC senior Marcelo McAndrew designed the video trailer for the game and will be joining the team as an art intern this fall.
Meant to be played casually or used as a fun, engaging classroom supplement, I Have A Word is the latest app from Dig-It! Games to address the educational needs of students available for purchase on the iTunes Store. 3 Digits™, Roman Town™, Artifact Snatch™, Loot Pursuit: Pompeii™, Loot Pursuit: Tulum™, Mayan Mysteries™, and Can U Dig It! ™ cater to the learning needs of middle school children. All seven iOS apps are free to download through the iTunes store. Maya Quiz™, a companion to Mayan Mysteries, is available for purchase on the iTunes store.
About Dig-It! Games™
Discover a new way to learn! At Dig-It! Games, we believe in the power of games to promote critical thinking, independent learning, and cultural understanding. Our games incorporate age-appropriate content in math, science, social studies and language arts into fun, interactive and engaging learning experiences. Through our seamless blend of fun and learning, we seek to foster the joy of intellectual discovery and inspire kids to think differently about learning.
To learn more about Dig-It! Games, please visit http://dig-itgames.com. For media inquiries, please contact Elisabeth Wraase at Stanton Communications at (410) 727‐6855 or ewraase (at) stantoncomm (dot) com.