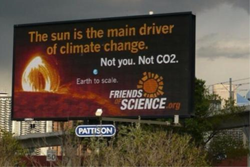 climate policy-makers should wait 2 to 4 years
Calgary, Alberta, Canada (PRWEB) September 17, 2015
Friends of Science Society has released a new plain language report entitled "From Ice Age to Nice Age – Why?" directed toward Albertans and other Canadians who are concerned about the upcoming Paris "COP-21" Climate Change talks in December 2015. Presently, Alberta has convened a Climate Change Panel which Friends of Science say is too one-sided in terms of its make-up as outlined in a September 2, 2015 Troy Media commentary.
"From Ice Age to Nice Age – Why?" offers a number of linked resources for readers. These include Donna Laframboise' exposé of the number of green activists who participate in writing the crucial IPCC Summary for Policymakers, the section of the UN climate report that most governments rely on for policy direction.
The document notes that as a venue for a 'green' conference, to which some 50,000 people are expected to attend, Paris, France has about half the population of Alberta and puts out more GHG emissions than all of Alberta's industry, and is one of the most polluted cities in Europe as reported by France-24 March 20, 2015.
Problems with the assessment of Social Costs of Carbon by economist Dr. Ross McKitrick are outlined, along with his advice that policy-makers should wait 2 to 4 years before changing policy, due in part to the on-going 18 year and 8 month hiatus in global warming that "was not predicted by a single model" as reported in a Der Spiegel interview entitled "Climate Expert von Storch Why is Global Warming Stagnating?" June 20, 2013. [LINK: spiegel.de/international/world/interview-hans-von-storch-on-problems-with-climate-change-models-a-906721.html]
As well, Friends of Science point out that there have been no environmental benefits, [no reduction in carbon dioxide or other emission due to these measures as reported by the UN April 13, 2014. [LINK: un.org/climatechange/blog/2014/04/ipcc-greenhouse-gas-emissions-accelerate-despite-reduction-efforts-many-pathways-to-substantial-emissions-reductions-are-available/]
Friends of Science points to a 2002 debate solicited by Association of Professional Engineers and Geoscientists (APEGA) between representatives of Pembina Institute argued for the Kyoto Accord, while scientists advising Friends of Science argued against on scientific and economic grounds. Canada had to pull out of Kyoto in 2011 to avoid paying ~$14 billion penalties and the IPCC science is now in question due to the 18+ year pause in global warming. Thus, Friends of Science questions the propriety of the several Pembina Institute-related parties on the Alberta Climate Panel.
About
Friends of Science Society has spent a decade reviewing a broad spectrum of literature on climate change and have concluded the sun is the main driver of climate change, not carbon dioxide (CO2). Friends of Science welcomes earth, atmospheric and solar scientists, engineers and citizens who challenge the alleged consensus on climate change.
Friends of Science Society
P.O. Box 23167, Mission P.O.
Calgary, Alberta
Canada T2S 3B1
Toll-free Telephone: 1-888-789-9597
Web: friendsofscience.org
E-mail: contact(at)friendsofscience(dot)org