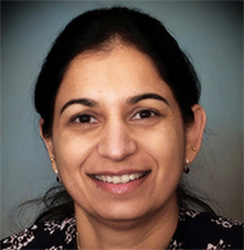 Modern Western diagnostic methods can be enhanced by incorporating easy to recognize Ayurvedic principles that reveal important physical, physiological, psychic and behavioral aspects of patients and the disease process. -- Dr. Rosy Mann
Averill Park, NY (PRWEB) September 15, 2015
Ayurvedic physician Rosy Mann, BAMS will join the faculty of The American Meditation Institute (AMI) for a 30 credit hour mind/body medicine CME conference on Ayurveda, meditation and yoga for physicians and other health care professionals, November 3-7, 2015 at the Cranwell Resort and Spa in Lenox, Massachusetts. Entitled "American Meditation: The Heart and Science of Yoga," this comprehensive physician training is accredited through the Albany Medical College Office of Continuing Medical Education..
Now in its seventh year of providing physicians continuing medical education credits, "The Heart and Science of Yoga®" conference presents a comprehensive training in the world's most effective holistic mind/body medicine and its scientific foundation. The program is designed to encourage active participant interaction by combining engaging lectures, practicums, panel discussion and Q&A. Although recent studies have demonstrated that 75% of health care costs associated with chronic diseases could be prevented or reversed by lifestyle changes, many clinicians do not offer themselves, or their patients, strategies that encourage meaningful change. AMI's 30 hour CME course will provide easy-to-learn practices that work synergistically (within the intricate medium of the stress system) to reduce inflammation, allostatic load and burnout while working toward establishing homeostasis.
Presenter Rosy Mann, BAMS (Bachelor of Ayurvedic Medicine and Surgery) and faculty member of the Kripalu School of Ayurveda, brings more than 16 years of experience as an Ayurvedic doctor specializing in women's health. Trained under the guidance of renowned Ayurvedic physicians in India, she received a bachelor of Ayurvedic medicine and surgery degree with distinction in 1994 from Guru Nanak Dev University in Amritsar, India. In addition to women's health care, her areas of expertise include panchakarma (detoxifying programs and procedures), Ayurvedic nutrition and cooking, pulse analysis, and Ayurvedic herbology.
Through her two CME conference lectures Dr. Mann will explain how a basic understanding and practical application of Ayurveda can be used as a complementary diagnostic tool. According to Dr. Mann, "Modern Western diagnostic methods can be enhanced by incorporating easy to recognize Ayurvedic principles that reveal important physical, physiological, psychic and behavioral aspects of patients and the disease process."
The devotion, enthusiasm, and teaching methodology of the entire AMI faculty will combine to create a dynamic and interactive course for their students. Each faculty member is committed to the advancement and training of Yoga Science as holistic mind/body medicine. In addition to Dr. Mann's lectures on Ayurveda, additional topics will include mindful mantra meditation, diaphragmatic breathing, Yogic and chakra Yoga psychology, the chakra system as a diagnostic tool, mind function optimization, nutrition, physician burnout, functional medicine, epigenomics, easy-gentle yoga and lymph system detoxification.
According to conference faculty director Leonard Perlmutter, "Most of the obstacles to health and well being reside in the mind. Meditators learn how to develop the tools that can change the software of the mind and therefore, their reality. By incorporating the practices taught at this conference, physicians can sharpen the focus of their attention, enhance their creativity and experience a sense of purpose and comfort to better serve themselves, their families, their patients and their medical practices."
About the American Meditation Institute
The American Meditation Institute is a 501(c)3 non-profit educational organization devoted to the teaching and practice of Yoga Science, meditation and its allied disciplines as mind/body medicine. In its holistic approach to wellness, AMI combines the healing arts of the East with the practicality of modern Western science. The American Meditation Institute offers a wide variety of classes, retreats, and teacher training programs. AMI also publishes "Transformation," a quarterly journal of meditation as holistic mind/body medicine. Call 518.674.8714 for a postal or email subscription.
Media Contact:
Robert Washington
60 Garner Road, Averill Park, NY 12018
Tel: 518-674-8714
Fax: 518-674-8714