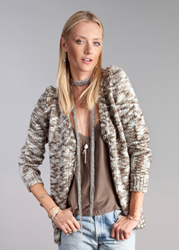 "The skinny scarf is such an easy, versatile accessory to wear. It has the feeling of a combination product – fabric, jewelry elements and other embellishments."
Los Angeles, CA (PRWEB) September 15, 2015
Apparel and accessories designer Chan Luu releases Fall 2015 Accessories Collection featuring an expanded selection of on-trend skinny scarves.
Originally debuted in 2005, Chan Luu's unique hand-beaded skinny scarves are currently experiencing a revitalized presence in the fashion world. Currently a staple item for fall, Chan Luu is pleased to have already had these up and coming accessories featured in Woman's Health Magazine.
Airy and carefree, the skinny scarf represents an easy way to dress up any casual outfit. Embellished with glass beads and featuring fringe accents on the ends, this item is eye catching and versatile. The skinny scarf adds a lightweight layer to your fall ensemble and is easily worn in a variety of ways such as a scarf, a headband, a belt or even as jewelry.
"The skinny scarf is such an easy, versatile accessory to wear," says designer Chan Luu, "It has the feeling of a combination product – fabric, jewelry elements and other embellishments."
In response to increased demand, Chan Luu has unveiled a variety of new skinny scarves available on their online boutique as of September 9, 2015. These new items represent an emphasis on current trends and a new take on a classic design. All of the scarves are made from 100% silk chiffon.
Given large demand for this surging fall trend, Chan Luu is recommending customers shop the selection early as popular designs and colors are selling fast.
Customers can shop the expanded selection on Chan Luu's website, http://www.chanluu.com. The scarves range in price from $50-$90.
About Chan Luu
Chan Luu is a designer of jewelry, accessories, and ready-to-wear. Originally from Vietnam, she launched her first women's accessories collection in the United States in 1996, marking the start of the Chan Luu brand. Chan Luu's trademark is her artistic ability to combine organic shapes with contemporary ideas. In 2001, Chan designed the first wrap bracelet that has been a staple in her seasonal jewelry collection for over a decade, becoming a popular style worldwide. Chan's passion is to create jewelry, accessories and apparel that are unique, inspired by cultures from around the world and most importantly individually handcrafted. Her pieces have been featured in the top fashion magazines and have adorned Hollywood's hottest celebrities. To view available jewelry, apparel, and accessories, visit http://www.chanluu.com.